Yesterday there were 38 aqueducts out of service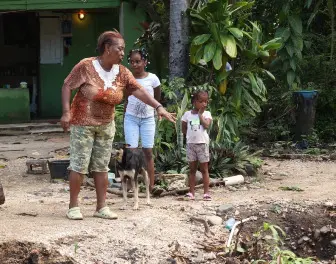 As of yesterday, 38 aqueducts remained out of service, with 687,283 users affected due to storm Franklin. Meanwhile, 24 people remained sheltered in the El Túnel school in the Capotillo sector of the National District.
The aqueducts out of service are under the administration of the National Institute of Drinking Water and Sewerage (Inapa), which said that 69% of the affected systems had been restored. At the same time, those of the Santo Domingo Aqueduct and Sewerage Corporation (Caasd) had rehabilitated all the damaged aqueducts.
This is contained in the Emergency Operations Center (COE) report, which details that 683 homes have been affected, three destroyed and three partially damaged due to flooding or landslides.
Likewise, 3,415 people were displaced, two roads were affected, 29 communities were isolated, and one bridge was affected.
The COE also informed that the East, North, and South electricity distribution companies had reestablished the energy service in their concessioned areas.
Although the storm left the country last Thursday, authorities alerted several provinces for possible urban and rural flash floods, flooding of rivers, streams, creeks, and landslides.
Yesterday, rains continued to fall on the southern coast in the afternoon, which increased the dangers due to the saturated soils.
Health
Yesterday, the Minister of Public Health, Daniel Rivera, toured the communities of Manoguayabo, which were affected by the flooding, where a day for preventing and detecting diseases has been arranged.
The preventive day also includes the delivery of medicines to avoid cases of leptospirosis, delivery of mosquito nets, and other supplies, such as tank covers.
"We will make an evaluation and we will also have a collection center, and depending on this we will take the appropriate strategies for action. Right now the Ministry's personnel are going house to house, duly identified and searching for cases of diarrhea, fever, vomiting, some cases of biodermitis", expressed Rivera.
According to the COE report, the most affected houses are in Cambita Garabito, San Cristóbal. It also explains the interventions of the different public institutions.