COE maintains nine provinces in yellow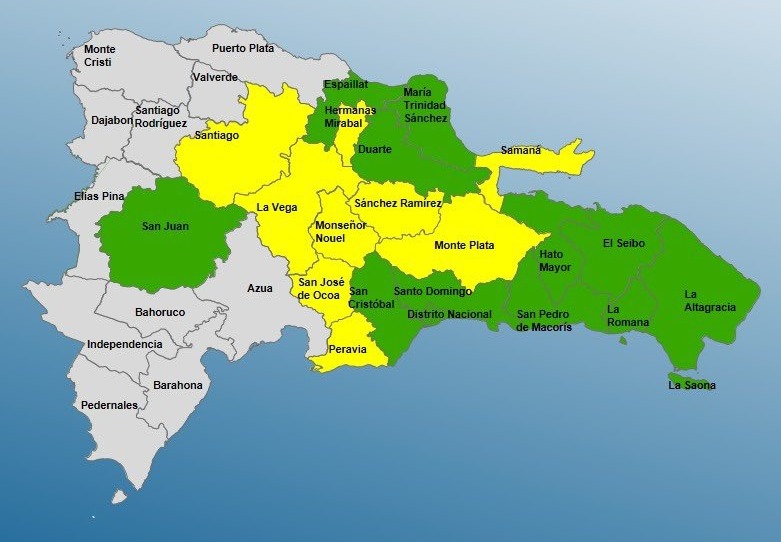 Santo Domingo.- Nine provinces have been placed on yellow alert, while 12 are on green alert due to the potential risks of urban and rural flash floods, river and stream flooding, as well as landslides.
As per the latest meteorological bulletin from the National Meteorological Office (ONAMET), a trough linked to Hurricane Franklin is currently situated within the national territory. Scattered downpours are predicted in the morning hours in provinces such as Barahona, Pedernales, Azua, Peravia, San Cristóbal, and the Greater Santo Domingo region, among others.
During the afternoon to early nighttime hours, heavy downpours are expected, accompanied by thunderstorms and wind gusts over areas including El Seibo, La Romana, Hato Mayor, San Pedro de Macorís, Monte Plata, the Greater Santo Domingo area, La Vega, Monsignor Nouel, San Cristóbal, San José de Ocoa, Azua, San Juan, Santiago, Elías Piña, and Dajabón.
As indicated in COE report number 10, the following provinces are under a yellow alert: Monsignor Nouel, Sánchez Ramírez, Monte Plata, Santiago, Samaná, La Vega, San José de Ocoa, Peravia, and Hermanas Mirabal. Meanwhile, the provinces on green alert include Espaillat, La Romana, San Cristóbal, San Juan, El Seibo, Hato Mayor, the National District, Santo Domingo Province, María Trinidad Sánchez, Duarte, San Pedro de Macorís, and La Altagracia.