Explosion and fire in plastic recycling company in San Cristóbal caused by gas emission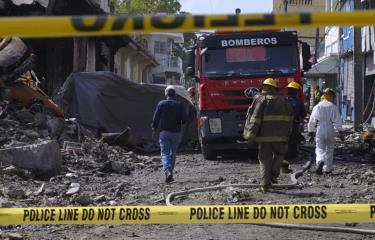 San Cristobal.- The explosion and subsequent fire that occurred on Monday, August 14 in San Cristóbal, resulting in at least 33 fatalities, were caused by the release of combustible gases without proper ventilation at the plastic recycling facility known as Vidal Plast. The San Cristóbal Fire Department's preliminary report indicates that post-event atmosphere monitors failed to detect flammable gases such as methane and ethylene, as these gases were consumed by the fire and their traces vanished.
The report suggests that within the area where plastics were stored and recycled, evidence pointed to the emission of combustible gases, likely produced by the heating of these materials. The confinement of these gases without proper ventilation led to their accumulation over time, resulting in a situation prone to fire or explosion.
The explosion's epicenter was identified on Padre Ayala street near Jacinto J. Peynado corner, as confirmed by visual documentation. The initial explosion was followed by deflagrations that produced shockwaves affecting nearby structures and vehicles, releasing substantial heat energy that impacted the affected properties. This underscores the significant fuel accumulation at the site.
The investigation revealed that an incident occurred at the same location in March, involving the discovery of a substance called Organic Peroxide 5.2, which is sensitive to humidity, temperature fluctuations, and sparks, requiring storage at temperatures below 20 degrees Celsius.
Authorities established that the explosion originated at the Vidal Plast company, a plastic recycling and trading establishment. The Public Ministry announced its ongoing investigation into several individuals and presented evidence pointing to their criminal liability, attributing irreparable harm to the population of San Cristóbal due to their actions. Additionally, the agency noted a previous fire incident at Vidal Plast in March, emphasizing that despite the evident risk, the responsible parties did not take necessary actions to prevent such events.