Onamet maintains strict monitoring of the evolution and development of Tropical Storm Lee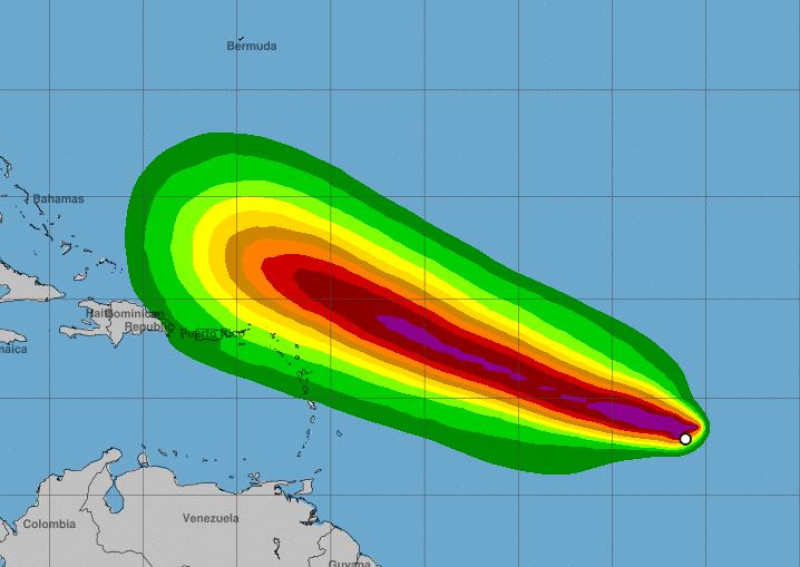 Santo Domingo.- The National Meteorological Office (Onamet) is closely monitoring the progress of Tropical Storm Lee, which is currently located about 2,040 km north of the Leeward Islands (Lesser Antilles) and has the potential to become a hurricane. Lee currently has maximum sustained winds of approximately 100 km/h and is moving west-northeast at a speed of about 22 km/h. It is expected to rapidly intensify into an extremely dangerous hurricane by the weekend.
While the projected path of Lee suggests potential effects in the Dominican Republic, Onamet indicates that these effects are not currently considered dangerous.
In terms of weather conditions, Onamet reports that a combination of Saharan dust and a high-pressure system to the northeast in the Atlantic is causing stable weather over much of the country. This stable weather is characterized by mostly hazy skies, high temperatures, and limited chances of rainfall.
However, a trough at various levels of the troposphere will continue to impact some areas in the northwestern region, the Central Cordillera, and the border area. These areas may experience cloudy skies with local showers, occasional thunderstorms, and gusty winds in the afternoon.
For Thursday, similar weather conditions are expected to persist, with generally good weather conditions in most areas. However, some sectors in the north, northeast, southeast, and the Central Mountains may experience cloudy conditions with local showers, thunderstorms, and gusty winds in the afternoon.
In Greater Santo Domingo, maximum temperatures are expected to range between 32°C and 35°C, while minimum temperatures will remain between 24°C and 26°C.