"High speed" is said to have caused accident that left 9 dead in Higüey, according to survivors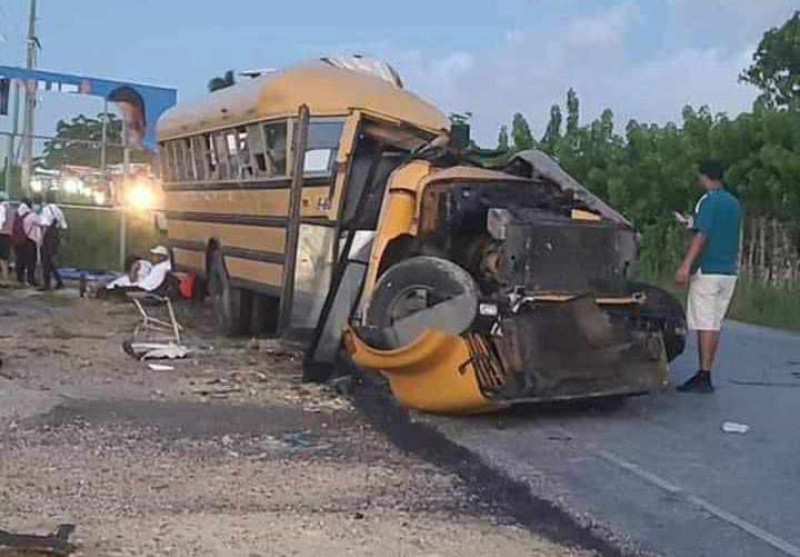 Higüey, DR.- Survivors of Saturday morning's accident in which nine people died and 17 others were injured agreed that "high speed" was the cause of the collision.
Passengers who managed to save themselves expressed, through different ways, the efforts of the driver Judy Familia, after the crash on a curve at the exit of La Otra Banda Street.
The authorities confirmed the identities of the people killed in the accident at the La Otra Banda exit, where 17 others were injured when two buses collided and are being treated.
The deceased was the bus driver; Judy Familia, 47; Soliver Carpio, 22; Juan Bautista Núñez, 46; Santa Caraballo Castillo, 37; Edison García Moreta, 26; Arquímedes Tolentino Guillén, 40 and Luis Rojas Cruz.
Also deceased were Francisca Gil Pérez, a native of El Seibo, and Gregorio Yan Martínez, 29, a native of San Pedro de Macorís.
Most of the deceased were traveling from the Royalton Hotel. The surviving bus driver is being treated in San Pedro de Macoris.
Dr. Juan Santana, director of the Nuestra Señora del La Altagracia General Hospital, said that five of the passengers on the bus died while being treated at the medical center and that one woman is still in the hospital and is "stable."
Five injured were taken to the Doctor Virgilio Cedano Clinic, and two to the Doctor Perozo Clinic.
The accident between the two buses of the hotel sector occurred around 7:20 a.m. this Saturday on a stretch of the highway that connects the municipalities of La Otra Banda with Veron-Bavaro.
The collision occurred between one of the yellow buses and another bus, transporting one of these hotel employees and the other passengers from the Punta Cana air terminal.
The shocking collision resulted in 17 injuries, and at least nine people died.
The driver of the yellow bus, Judy Familia Romero, 45 years old, was a native of San Juan de La Maguana, and her relatives had him transferred to that city.
According to witnesses, several injured and the deceased were taken to the Hospital General y de Especialidades Nuestra Señora de La Altagracia (Hgensa) in the Higüey, La Altagracia province.