Onamet forecasts that Hurricane Lee will cause "very dangerous" waves and wind gusts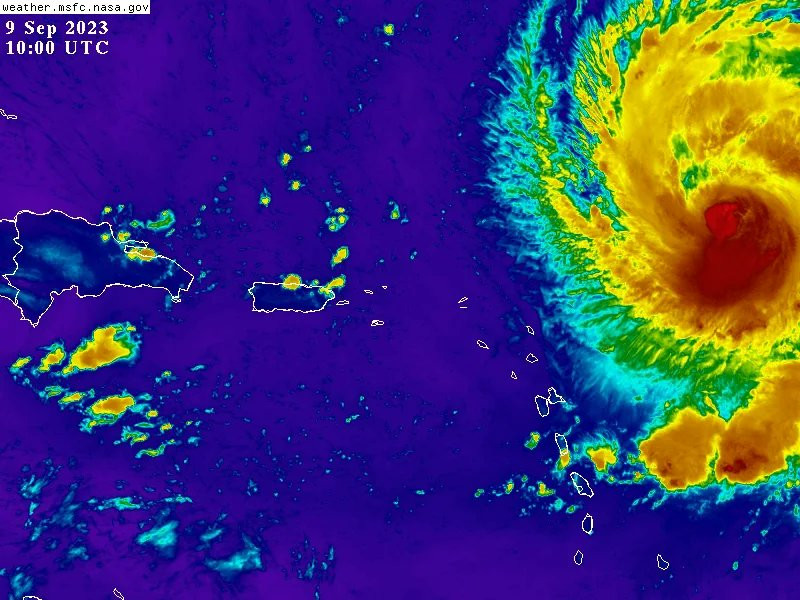 Santo Domingo.- The National Meteorological Office (Onamet) reported that Hurricane Lee is significantly deteriorating waves and wind due to its indirect effects.
"We expect such conditions to be present, mainly from the early morning of Monday, September 11, reaching waves of a height of 9 to 10 feet along the coast," Onamet said.
The meteorological body recommended fragile, small, and medium-sized vessels to stay in port, as well as residents and businesses near coastal areas due to the indirect effects of Lee.
Onamet forecasts that Lee will cause very dangerous waves, wind gusts, and possible rip currents, breaking waves and swells.
It indicated that in the northeast region, especially in La Altagracia, La Romana, El Seibo, Hato Mayor, Samaná, and María Trinidad Sánchez, there would be cloud developments generating local downpours, thunderstorms, and gusts of wind induced by the drag of moisture from the east/northeast wind and the contribution of a trough associated with the indirect effects of Hurricane Lee.
This will continue in the afternoon and will be extending to other points such as Monseñor Nouel, Duarte, Sánchez Ramírez, Monte Plata, San Pedro de Macorís, San Cristóbal, Peravia, Azua and El Gran Santo Domingo and nearby areas.
The Onamet indicated that hurricane Lee, category 3 on the Saffir-Simpson scale, is located about 620 kilometers east/northeast of the Leeward Islands, Lesser Antilles, with maximum sustained winds of 185 kilometers per hour and is moving west/northwest at about 19 kilometers per hour.
The entity said it will continue to monitor the system's evolution and development and recommended that the population be attentive to updated information on this tropical cyclone.
CYCLONE MARGOT UNDER SURVEILLANCE
Tropical Storm Margot is located about 1,430 kilometers west/northwest of the Cape Verde Islands. Maximum sustained winds are about 75 kilometers per hour and is moving west/northwest at 20 kilometers per hour.