Cuban who attacked Digesett is in maximum security cell; family has not seen him since August 16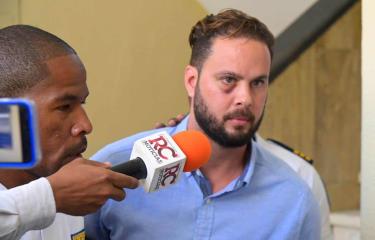 Santo Domingo.- Julio César Llorente López, a Cuban national, was arrested in the Dominican Republic for assaulting a traffic agent. His arrest followed an altercation where Llorente slapped the officer for allegedly taking photos of his personal documents while he was on the phone while driving.
Llorente's family acknowledges that his actions were wrong but believes that his arrest and detention for three months in a maximum-security cell are excessive. They expected a less severe measure, such as a financial guarantee or periodic reporting to authorities.
While Llorente's family understands the seriousness of his actions, they are concerned about his well-being and the emotional toll on his 17-year-old son, who is reportedly struggling emotionally due to the media coverage and social media comments about the incident.
The Cuban Embassy in the Dominican Republic has offered support to Llorente's family, but they have faced difficulties in visiting him or retrieving his vehicle, which was taken into custody by authorities.
Llorente's case has garnered attention, with appeals to reconsider his detention. The Cuban community in the Dominican Republic has expressed regret for his actions but believes that a less severe measure, such as house arrest, an electronic ankle monitor, compensation to the assaulted officer, and a public apology, would be more appropriate.
The case is ongoing, and an appeal for the end of preventive detention is scheduled for September 14th.