Sand extraction by Haitians in the Masacre River causes more damage than canal construction in Haiti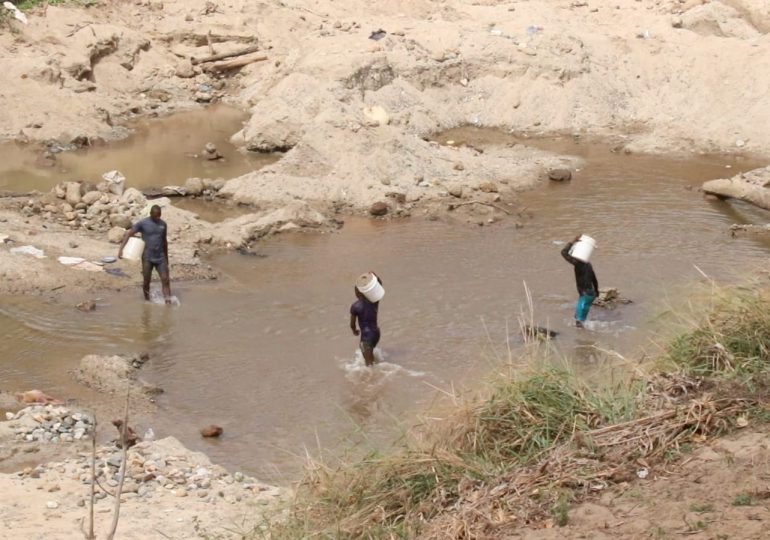 Port-au-Prince.- In addition to the ongoing controversial construction of an illegal canal by Haitian foreigners in Juana Méndez-Haití, another concerning issue has emerged in the form of sand extraction from the Massacre River. This activity is taking place in the Sal y los Cartones sector of the municipality of Dajabón.
In this area, Haitian individuals can be observed descending to the Massacre River armed with buckets to extract sand. They then pile up the sand on the riverbank, loading it onto trucks for removal from the area.
This practice, while economically driven, is causing significant environmental damage to the Masacre River. It is impacting the river's biodiversity, increasing turbidity in the water, affecting the water table, and altering the landscape, among other negative consequences. However, the ongoing political instability, crisis, and insecurity in neighboring Haiti have made it challenging for environmental authorities to effectively address and mitigate these issues to preserve the tributary.
Former Governor of Dajabón, Eng. Alturo Sosia, expressed his concern, stating, "They have engaged in indiscriminate extraction of aggregates from the Massacre River, which is one of the most pressing environmental crimes we are facing at the moment. The Ministry of the Environment must urgently establish contact with their counterparts in Haiti to take measures to protect the tributary."
Community leader Héctor Valerio echoed these concerns and urged the government to broaden its focus beyond the canal construction in Juana Méndez. He emphasized the need to address the sand extraction issue to prevent the complete depletion of the river.
It's worth noting that the Masacre River originates in the municipality of Loma de Cabrera in the province of Dajabón and flows into the Bay of Manzanillo in the province of Montecristi. The river has a total length of 55 kilometers, with only 9 kilometers forming part of the border with Haiti. The preservation of this vital waterway is crucial for both countries' ecosystems and the local communities that rely on it.