Haiti closes its border gates and slows the reopening of commerce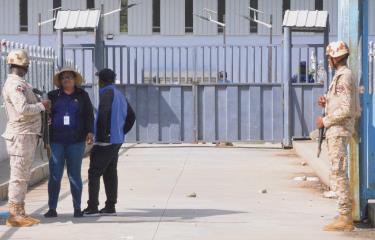 Dajabon.- Haiti has temporarily closed its border crossings, halting the partial reopening of commercial exchanges ordered by the Dominican government nearly a month after the crisis between the two nations over the Masacre River's waters.
This closure coincides with the Dominican Republic's intention to present the canal controversy caused by Haiti's illegal construction project on the Masacre River to the Organization of American States (OAS). An extraordinary session has been requested by the Dominican Republic at the OAS to address this matter.
In an attempt to alleviate the situation, Dominican authorities briefly opened the border with Dajabón, allowing access to the Provisional Commercial Corridors (CCP) to Haitians seeking to purchase essential goods. However, trade activity remained minimal, with reports suggesting that some Haitian businesses are attempting to prevent the reactivation of exchanges with Dominicans.
The border situation has caused confusion and frustration among Haitian residents living in the Dominican Republic who are unable to access basic necessities.
The ongoing border closure by Haitian authorities is in protest of the construction of a canal designed to divert water from the Masacre River as it flows through Haitian territory.
Meanwhile, the Dominican government continues its biometric registration of merchants, who are required to participate in the exchange in the Provisional Commercial Corridors. The registration process is mandatory for those involved in cross-border trade.
The Dominican Foreign Minister, Roberto Álvarez, is set to present the canal dispute case to the OAS, aiming to inform member countries about the situation along the border and foster objective opinions on the matter.
In response to the Kenyan High Court of Justice's temporary halt on deploying security forces to another country, the Haitian Armed Forces and the Ministry of Defense have initiated a recruitment drive. The recruitment period extends from October 9 to 29, 2023, with specific requirements for applicants, including proficiency in the Spanish language.