Caribbean territories prepare for the passage of Hurricane Tammy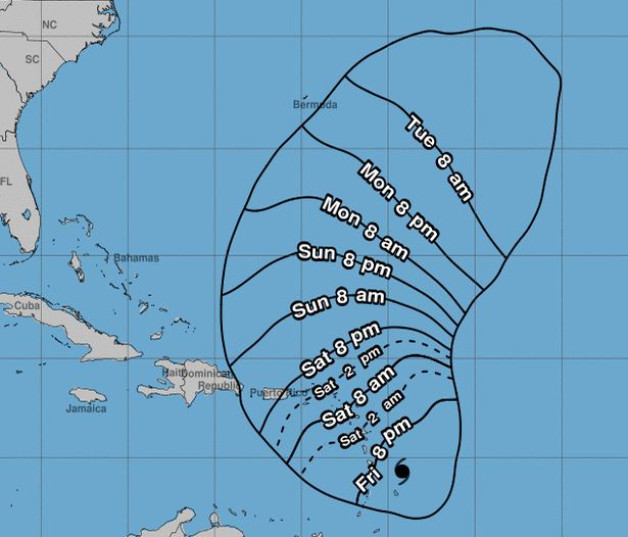 Tammy NHC's Predicted Trajectory
San Juan, Puerto Rico–Several Eastern Caribbean territories, including Guadeloupe, Antigua and Barbuda, Montserrat, St. Kitts and Nevis, Anguilla, St. Maarten, and St. Barthelemy, took measures on Friday, such as closing schools and alerting the population to the passage of Hurricane Tammy through the area.
Tammy became a hurricane on Friday and threatened the Leeward Islands with cyclone conditions today, heavy rains, and flooding over a large part of the Lesser Antilles.
Tammy has maximum sustained winds of 75 miles per hour (120 km/h), according to the latest bulletin from the U.S. National Hurricane Center (NHC).
In anticipation of the hurricane's impact, residents of the Caribbean territories flocked to supermarkets to stock up on supplies.
Antigua and Barbuda Prime Minister Gaston Browne, who recalled the ravages of Hurricane Irma in 2017 and the devastation on the island of Barbuda, along with the recent passage of Tropical Storm Phillippe, encouraged "everyone to be vigilant and ensure that the necessary precautions are taken to minimize the potential effects of the storm."
In his opinion, "our ability to withstand the onslaught of this storm as a nation is directly related to the responsibility that each individual assumes."
Also, the Antigua Public Utilities Authority (APUA) urged residents, in a statement on Friday, to stay indoors.
In this regard, APUA warned that the various desalination plants across the island may have to be disconnected due to the effects of sea surges and to minimize the likelihood of moisture being present in high-voltage electrical panels for up to 48 hours after the storm.
According to the track chart provided by the NHC, Tammy will be in open waters east of Puerto Rico on Sunday.
Its center was located about 165 miles (265 km) east-southeast of Martinique and about 240 miles (385 km) southeast of Guadeloupe.
Tammy produces rains that will leave a maximum of 12 inches (30 cm) of accumulation in the Leeward Islands, while in the British and U.S. Virgin Islands, up to the east of Puerto Rico, the maximum amounts will be 4 inches (10 cm).