Abinader defends official figures on dengue cases and deaths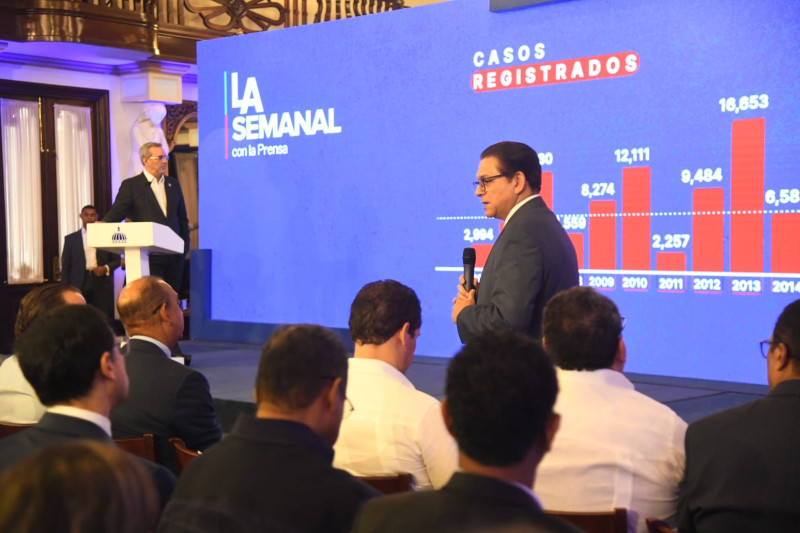 President Luis Abinader observes data on a screen while Public Health Minister Daniel Rivera gives details on dengue cases in the country.GLAUCO MOQUETE
President Luis Abinader defended the statistical figures offered by the Executive Branch and public health authorities regarding the cases of dengue fever registered in the country.
Asked by the media about the current reality of the disease and whether the Government "makes up" the figures, the president was emphatic in pointing out that his Government has acted with "full transparency," assuring that, as samples of evidence are the epidemiological bulletins reported by the Ministry of Public Health.
"Hiding statistics is dishonest, totally dishonest," declared the president.
"If we have done anything with statistics, in general terms, it is to be transparent," he added.
"With Covid they said the same thing and then they came and made an evaluation and even in the evaluation they gave us two more deaths than what we had reported," said the head of state.
At the Robert Reid Cabral Hospital, there are 368 patients; of these, 363 show signs of alarm.
The Government said that, to date, 12,900 cases of dengue fever have been reported in the country this year, and at least 11 people have died from the disease.
The figures were released by the Minister of Public Health, Daniel Rivera, who added that due to the update of the cases this week, following Monday, the number of dengue cases will reach at least 14,000 affected.
The head of the public health agency pointed out that out of 100 patients treated for febrile symptoms, 16 are positive for dengue. At the same time, the rest are affected by other respiratory viruses, such as influenza.
In a meeting with the media, Rivera pointed out that the results of the weekend journey will begin to be seen in subsequent weeks.
"The reduction, even, from the hospital point of view, has been reducing the number of dengue cases; we currently have a positivity of 16 percent; two months ago we had a positivity of 35 percent, then it dropped to 20 percent, now we are at 16 and we expect that to continue reducing," Rivera added.
"After the fumigation and elimination of hatcheries, we will see the reduction," the minister assured.
MOTHERS AND NEWBORNS
On the other hand, the head of state reported that maternal mortality in the Dominican Republic had been reduced by 35% by 2021.
He pointed out that this progress is due to an improvement in the health services of his administration. Regarding neonatal care, he stated that 14 units for diagnosing cardiac pathologies in newborns and seven new neonatal intensive care units have been created.