Poultry producers ask for government assistance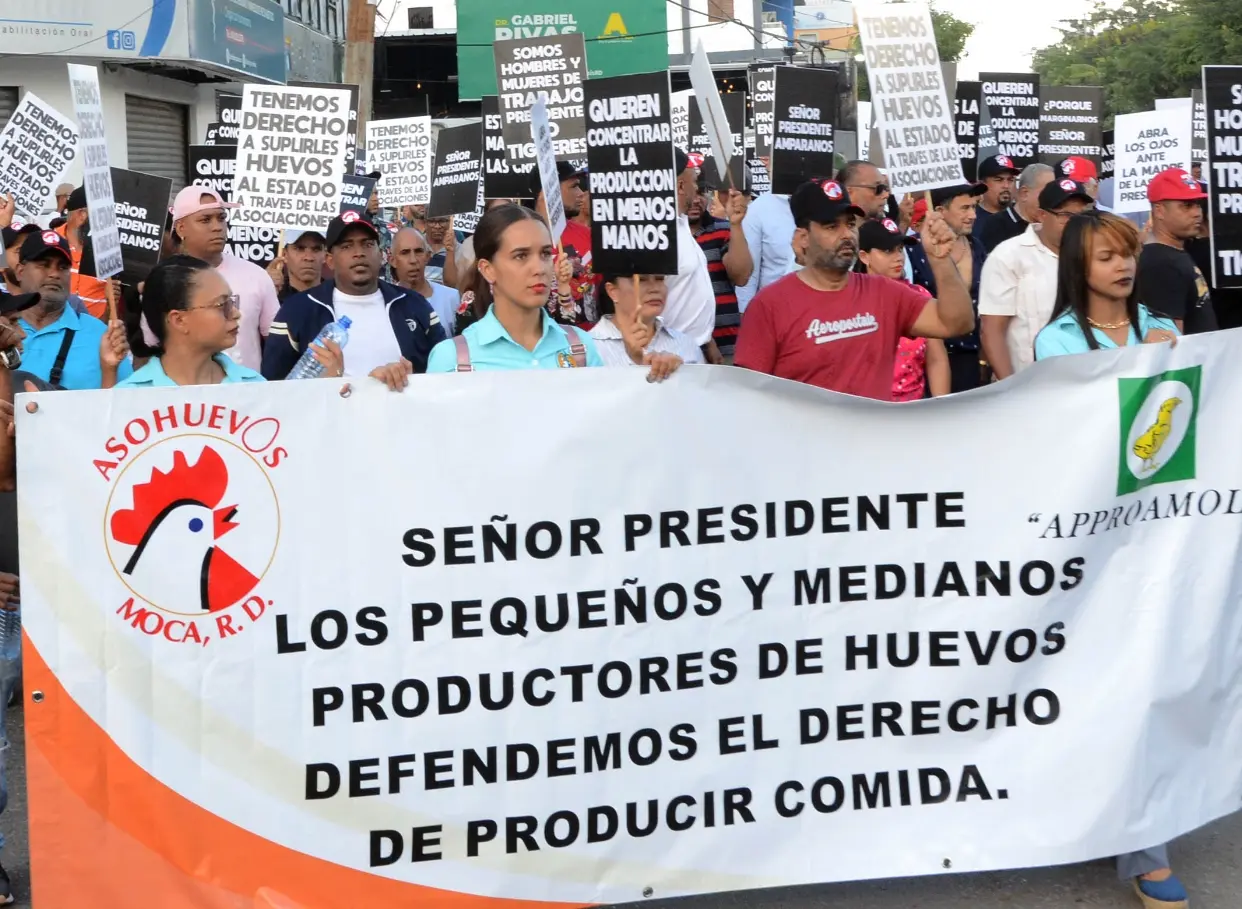 Moca, DR.- Dozens of egg producers of Moca and Licey al Medio protested yesterday with a march through some streets and avenues of this municipality, demanding the central Government to come to their aid after assuring that with the closure of the border with Haiti, they have lost one billion pesos, while their businesses are silently going bankrupt.
With banners alluding to the crisis affecting the poultry sector due to the conflict with the neighboring country and with which they also demand that the authorities pay attention to their claims, the poultry farmers expressed their discomfort.
Before the tour that ended at the Plaza del Agricultor, egg producers participated in a mass at the Sacred Heart of Jesus Church, officiated by the priest Cristian Omar Canario, who also called on the authorities to listen to the claims of egg producers.
Manuel Escaño, president of the National Association of Egg Producers (Asohuevos), and Ambiorix Cabrera of the Association of Small and Medium Poultry Producers Moca-Licey (Approamoli) expressed that the situation they are currently experiencing is the mother of all crises that the sector has faced in recent times.
"As egg producers, we have not caused this unprecedented crisis that is endangering the existence of hundreds of our small and medium-sized producers organized in our institutions," said Escaño, reading the document.
The poultry leaders explained that they have been selling eggs in farms for around RD$2.00, with the cost of production over RD$5.00, which aggravates their losses, which are around one billion pesos. "So far, we have not felt the support of the authorities, being marginalized, ignored, and mocked by a small group of producers who have tried to manage the present crisis to their advantage," they said.
They maintained that the poultry sector is trying to sensitize the authorities so that they also support the small and medium producers through the purchase of the product through the Government's social programs.