Rains to continue through the weekend and surf becomes dangerous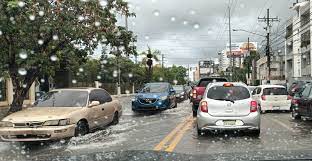 COE keeps several provinces on alert
The National Meteorological Office (Onamet) reported that due to the effects of a trough over the national territory, moderate to heavy rains will continue to occur over provinces of the Atlantic and Caribbean coast, with thunderstorms and isolated wind gusts.
Rainfall will be more intense for Samaná, Monte Plata, Hato Mayor, El Seibo, La Altagracia, La Romana, and San Pedro Macorís and may affect greater Santo Domingo.
"In the afternoon and evening, the clouds will expand to other locations belonging to both Central and Northern mountain ranges, the Cibao valley, points of the southwest and border area where we will have showers and / or downpours, with isolated thunderstorms and wind gusts."
Likewise, for tomorrow, Saturday, a gradual increase of humidity and instability over our region is forecast due to the effects of the trough associated with a low-pressure area to the southwest of the country. Especially in the afternoon and evening hours, an atmosphere of mostly cloudy skies will prevail with showers and downpours that may be moderate to heavy, thunderstorms and wind gusts over La Altagracia, El Seibo, Hato Mayor, San Pedro de Macorís, La Romana, Monte Plata, Samaná, Sánchez Ramírez, María Trinidad Sánchez, Santiago, Puerto Plata, Monte Cristi, La Vega, San José de Ocoa, San Cristóbal including Greater Santo Domingo.
Flood Alert
Due to the rains forecast for the next 24 to 72 hours, this National Forecast Center maintains the weather alert levels for Santiago, Duarte, Santiago Rodríguez, Hermanas Mirabal, Valverde, Espaillat, Monseñor Nouel, Puerto Plata, Sánchez Ramírez and La Vega, due to possible flooding of rivers, streams and creeks, as well as urban and rural floods and landslides.
Temperatures during the day remain slightly hot, especially in urban areas. However, they will be "a little more pleasant" in the evening and early morning hours, mainly in mountainous regions due to the cool wind from the northeast. In Greater Santo Domingo, the maximum temperature will be between 30 °C and 32 °C and the minimum between 21 °C and 23 °C.
Regarding a remnant disturbance zone of Tammy, the Onamet indicates that it is located several hundred kilometers east/southeast of Bermuda and presents a 50% probability of becoming a post-tropical cyclone in the next 48 hours and the next seven days.