Yeni Berenice affirms that the Dominican Republic has taken steps forward in the fight against corruption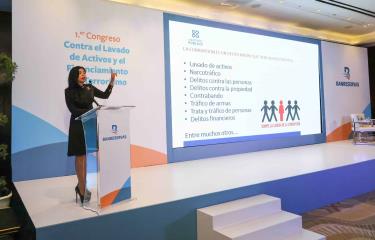 Santo Domingo.- The Dominican Republic has made significant legislative and public policy progress in its fight against corruption and money laundering, according to Deputy Attorney General Yeni Berenice Reynoso. Speaking at the first Congress Against Money Laundering and Financing of Terrorism organized by the Reserve Bank, Reynoso emphasized that the country's anti-corruption legislation is considered one of the most comprehensive and robust in the world.
Reynoso acknowledged that combating corruption hasn't been an easy task for the Public Ministry, as corruption became more structured in the country over the past decade. She highlighted that the fight against corruption often involves identifying criminal groups with the objective of diverting the state's assets.
Without naming specific cases, Reynoso alluded to corporate networks involved in corruption, revealing that in one instance, these networks moved 19 billion pesos in less than a year. She emphasized that money laundering is closely linked to drug trafficking, and corruption serves as a mother crime with numerous prominent children, including drug trafficking, crimes against persons and property, smuggling, arms trafficking, human trafficking, financial crimes, and more.
Reynoso also pointed out that more than 70% of crimes in the Dominican Republic involve firearms, illustrating the interconnectedness of corruption and security. She praised the increase in prosecutors dedicated to the fight against corruption, with the Attorney General's Office expanding from six prosecutors in 2020 to 50 at present.
During the congress, Samuel Pereyra, the general administrator of the Reserve Bank, highlighted the pressing challenges of money laundering, financing terrorism, and the proliferation of weapons of mass destruction. The event aimed to strengthen strategies for effectively combating organized crime. Other prominent attendees included Joel Santos, the Minister of the Presidency; Alberto Then, the Director of the National Police; and Vice Admiral José Cabrera Ulloa, the General Director of the Drug Control Directorate (DNCD).