President Abinader prioritizes national interest over commercial interests amid Dominican Republic-Haiti crisis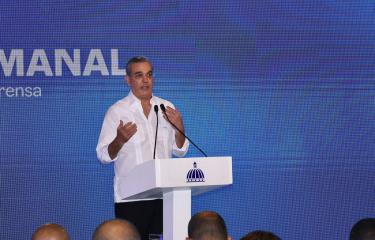 Santo Domingo.- In a recent statement, President Luis Abinader emphasized the importance of placing national interest above commercial interests amidst the ongoing crisis between the Dominican Republic and Haiti. During an interview with La Semanal con la Prensa, he addressed concerns about the crisis and highlighted that the only sector significantly affected has been that of chickens and eggs. Despite this, he noted that prices for these products have remained stable in supermarkets.
President Abinader stressed, "With this situation in Haiti, the national interest must be above commercial interest. It is now the Government's responsibility to mitigate the damage, particularly regarding eggs and, to a lesser extent, chickens."
The President also responded to questions about the state of milk and beef producers in the northwest area, acknowledging their financial struggles due to a lack of government support. He refuted claims of Brazilian meat importers establishing businesses in the Dominican Republic and clarified that there are no exports of milk or beef to Haiti.
Furthermore, Abinader expressed his unawareness of any plans to import beef from Brazil, citing record-breaking production in the country, including successful exports to the United States. He clarified, "What we do import is trimen, a substance used in sausage production, and it is sourced from the United States and Brazil."