Government considers the incident at the border a provocation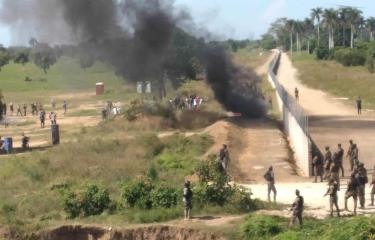 Santo Domingo.- The Dominican Government has labeled the recent incident involving a group of Haitians who entered Dominican territory near the border as a provocation. These individuals attempted to obstruct an Army patrol in the border area, and Dominican officials have condemned their actions. Spokesperson Homero Figueroa warned that such incidents could lead to conflicts with unforeseeable consequences, further straining relations between both countries. The Dominican Government has demanded that the authorities cease these violations immediately.
The area in question is claimed by Haitians who allege that properties adjacent to the Dominican border wall belong to Haiti. Soldiers from the Dominican Army guarding the Dominican side remained vigilant with rifles in hand during the incident, while helicopters from the Air Force flew over the area. Members of the Haitian Police also observed the situation.
The Dominican Government clarified that the area in question belongs to the Dominican Republic, specifically between the perimeter fence and Pyramid 13, which marks the border limit in that area. As a preventive measure to ensure security, the Army has increased the number of soldiers and vehicle patrols in the region.
The border between the Dominican Republic and Haiti has been closed since September due to the construction of a canal in the Dajabón-Masacre River. The Dominican Government has denounced Haiti's violation of agreements before the United Nations, but the Haitian authorities have laid out certain conditions to reopen the border, including the removal of a biometric data system in the square and other demands related to visas and taxes.
These issues are being discussed during negotiations between both countries, and local authorities in Dajabón believe that these matters should be handled at the diplomatic level through the Foreign Ministry.