Haitians appropriated the Dominican flag and vandalized the pyramid that marks the border boundary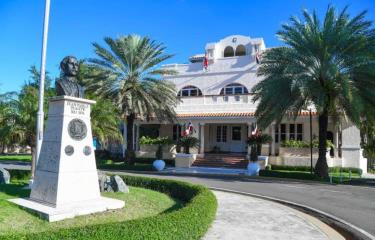 Santo Domingo.- A recent incident has strained bilateral relations between the Dominican Republic and Haiti. Haitians seized the Dominican flag marking Dominican territory and attempted to damage pyramid No. 13, which defines the border between the two nations. This event occurred in La Vigía, Dajabón province, where the Dominican government is constructing a fence to control the entry of undocumented individuals.
The Ministry of Foreign Affairs reported that these events were captured in widely circulated social media videos. Pyramid No. 13 is located in Dominican territory, and Haitian citizens attempted to damage it with demolition tools, causing significant harm.
These actions followed a vehicular patrol conducted by Dominican soldiers on the west side of the smart perimeter fence in the border area. This patrol was misinterpreted by a group of Haitians as an incursion into their territory. However, Dominican authorities emphasized that the legal border demarcation is defined by the pyramids built there since 1929, pursuant to a peace agreement signed by both countries.
The Dominican Ministry of Foreign Affairs expressed perplexity at the Haitian government's interpretation of the events, portraying the Dominican Republic as the provocateur. They highlighted video evidence and the opinions of sensible Haitians contradicting this narrative.
The Dominican government called on Haitian authorities to maintain order in their territory and prevent further incidents that could exacerbate the delicate situation between the two countries.