Dominican Vice President visits diaspora in New York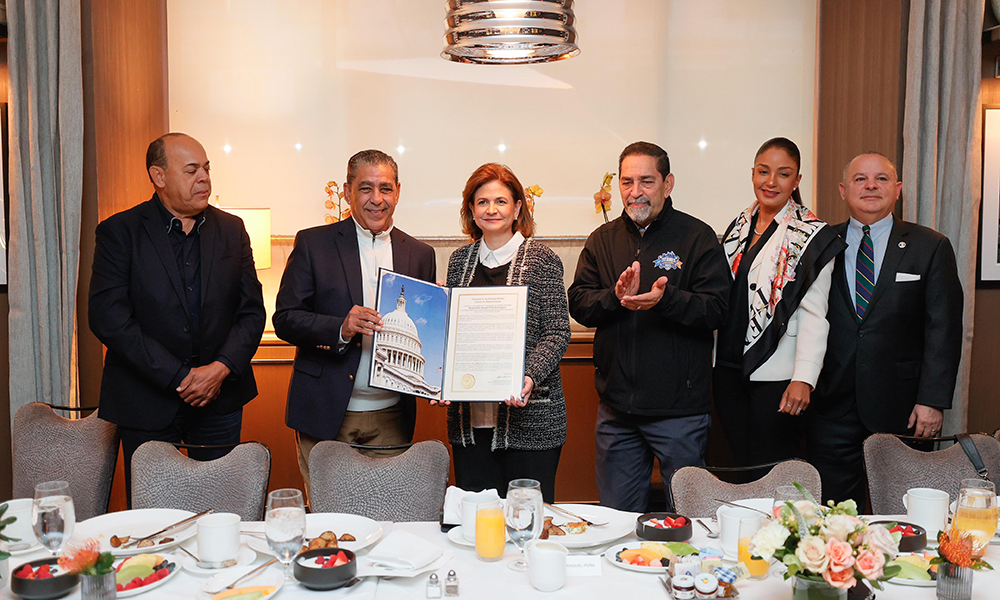 New York.-  Vice President of the Republic, Raquel Peña, recently conducted a productive work agenda in the United States, engaging in tours of Dominican businesses, meetings with prominent businessmen, and participation in ceremonies focused on public service and the dedication of Dominicans abroad.
During her visit, Vice President Peña presented awards to three Police Commissioners, including two Dominicans, and over 30 deserving students of Dominican descent. She praised the exceptional careers of Wendy García, Commissioner of Equity and Inclusion, and the highest-ranking Dominican within the New York City Police Department, as well as José A. Gomérez, the first Hispanic Commissioner of Police in the State of New York for the city of Newburgh, both of whom have reached significant positions as trailblazers in their fields.
Additionally, the Vice President recognized the accomplishments of Edward Caban, a Puerto Rican married to a Dominican, who became the first Latino to hold the position of Police Commissioner of the City of New York.
During the event, Vice President Peña shared updates on police reform efforts in the Dominican Republic, emphasizing President Luis Abinader's commitment to transformative change, including enhanced training and improved remuneration for the National Police.
Peña also acknowledged 38 young Dominicans and individuals of Dominican descent who have excelled abroad. The awards aim to strengthen the connection between the younger diaspora and Dominican culture, fostering a sense of ownership of the country and celebrating their academic achievements. President Abinader considers the children and grandchildren of Dominicans abroad to be vital bridges between both countries, where their talents can contribute significantly.
Furthermore, Vice President Peña held meetings with Dominican businessmen in New York to strengthen ties and discuss the investment opportunities that the Dominican Republic offers. She emphasized the country's transparent and fair policies, along with its political, social, and economic stability, which have led to sustained annual growth rates.