George's Oasis Bar: the heart of Sosúa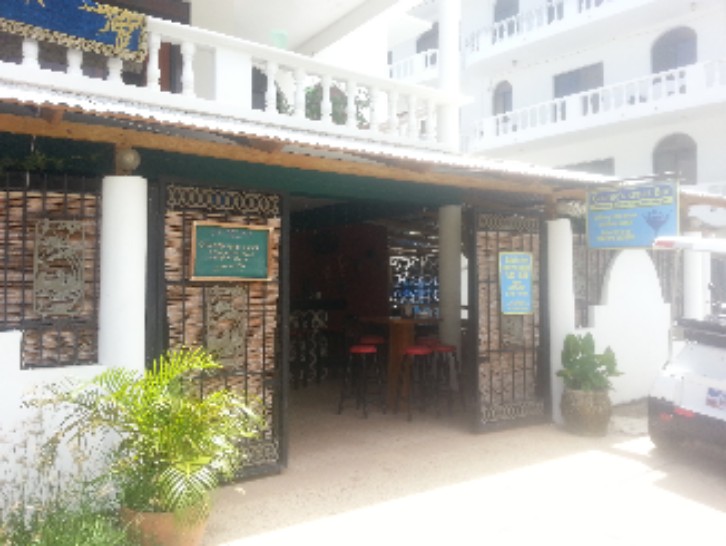 George's Oasis Bar in Sosúa
When one is visiting unknown or foreign lands one of the most universally satisfying and enjoyable experiences is the local bar, pub or cantina: the drinking establishment or cafe. And while an ice-cold local libation is most definitely a significant factor in making one feel comfortable, adjusted, and happily refreshed it's the ultimately-human experience of sharing drinks over conversations both of the familiar and the far away that gives one a sense that one is part of an adventure.
The Dominican Republic is notorious for having its own exceedingly charming low-key easygoing open-air bars and inspirationally understated pubs, cafes, and variously shaded oases offering refuge and retreat from the relentlessly simmering tropical island sun. Such blissful havens offer the chat-inducing environments and breezily relaxed casual atmospheres that allow for humans being rather than humans doing.
The unassuming, laidback local open-air restaurant or bar is one of the uniquely endearing features of life in the Dominican Republic treasured every bit as much by the indigenous locals as all the visitors, vacationers, and expats alike.
There are a gritty non-sterile realness and Latin developing-nation-authenticity that informs and permeates the very air between the patrons washing them clean of all pretenses, societal and cultural affectations – rendering any such possibly reluctantly lingering mannerisms ridiculous and glaringly awkward.
When we first arrived in Sosúa things were very much up in the air and completely unsorted. A promised job had failed to materialize, we had no place to stay other than the small hotel room we had booked at the Mary Rose for four days, and we were faced suddenly with an added $300-$500/month expense for lodging that was meant to be covered by the suddenly non-existent job.
Thanks to Rick and Milka of the Mary Rose, the Trade Winds condominiums, and Rocky's Rock & Blues Bar, we were able to get our lodgings sorted and sorted well!
And thanks to George we were made to feel welcomed and at home at a time in our lives when disorientation and chaos could have ruled the day…
A short distance up a hill southeast from the Super Pola food market in the town of Sosúa located on Hispañola's storied and postcard-picturesque northern coast one will find George's Oasis Bar – a place where his sign so aptly declares: "local people meet."
Catty-cornered adjacent to our newfound home in the Trade Winds apartments and on the ground floor of the Casa Mañana apartments George's Oasis Bar is a small, nondescript unassuming open-air, sunlit, casual easy-going venue. A locale which feels much less like an impersonal bar and more like your best friend's patio or covered porch – if that patio or porch was in the Heart of the Caribbean on an island where the air still rings with a vague, yet not so distant threat of hurricanes and is alive with ghosts of infamous pirates and shipwrecks.
As any experienced drinker worth their weight in top-shelf sauce knows; it is in just such a bar one meets the most interesting if not entertaining people. George's Oasis Bar features a solidly sordid and enticing cross-section and collection of, as a sign behind the bar so accurately proclaims; "schemers, dreamers, losers, boozers, misfits, and all assorted fleeing felons." All of whom not only compose its clientele but are also entirely welcome here – so long as they can handle their drink and pay their tabs.
From former truck-driving hooligans of the far-off frozen north to guitar-strummin' tropical golf cart suicide jockeys in the Heart of the Caribbean.
Taking full advantage of the amnesty declared by the sign, former physician and ship cook Chris Peterson seemed to have found safe harbor at George's. To say that Peterson has a rather colorful, eventful, somewhat mythological past is a bit like saying that the universe is rather "big." Personally, I believe him to be some type of legendary covert figure. A rare and vanishing breed from an alternate universe and another generation. To speak with Chris is to drift into another dimension where time and reality warp to accommodate his words. And I'm sure that there are a few circles of people, sailboats, bars, and towns that'll never recover from his exploits. The man sure could cook up a deeply meaningful plate of chili con carne, eggs, pork chops, chicken or rice, and beans!
Chris charted a course for a more relaxed semi-retired lifestyle since we first encountered him at George's. Though he no longer cooks at George's he remains a welcome denizen of the town.
And then there is Ed the Canadian truck driver. Ed and his sweet, fun-loving, occasionally dog-stomping (completely unintentional by the way!) wife Dawn, are the textbook definitions of endearing, welcoming, warm, and gracious. I don't know how many times Ed has driven the lot of us around town in his island cart, to the beach or an ever-revolving lineup of various restaurants in search of food, fun or adventure. And I'll tell you with the sort of ultra-creative, thrill-seeking, adrenaline-junkie tactics the Dominicans employ when they drive one could do no better than to have a former truck driver who has driven from Saskatoon to El Paso.
Those 4 million road miles over 37 years come in more than handy in a land where traffic signs, turn signals, and driving etiquette of any kind are routinely ignored, and glowing red stop lights are a mere suggestion at intersections! Ed's wife Dawn truly knows how to appreciate every sunset in its full tranquil sky-painting glory. One gets the sense that bathed in the aureate glow of the beach sunset she's in the realm of spirits in silent, rapt communication with a particular angel only she hears.
Ed also slings a mean guitar and many an impromptu musical jam complete with harmonica players has been known to break out in the pub from time to time.
Fittingly, owner George Knaskov is one of the most storied and fascinating denizens in his establishment. Born in Dubrovnik, Yugoslavia, his parents walked to Austria in 1944. From there they were relocated to Brazil in 1949 where George spent his formative years, fell in love with his adopted home, and pursued an education in engineering.
For the next 43 years, George worked as a consulting engineer for numerous breweries traveling the world installing breweries as part of the job. After a long stint in Florida and after retiring, he headed down to the Dominican Republic where he opened his pub to keep busy, create a social gathering spot, and to help the locals and community.
The Dominican girls and ladies — some mothers and daughters — behind the bar and working the kitchen are not only the waitstaff but also the managers and partners in the cantina and they are considered very much a part of the fellowship that is George's crowd. A significant percent of Casa Manana is in fact owned by a Dominicana so there is a very local ambiance and feeling to the locale which adds greatly. On any given day or evening, as the strains of merengue, bachata, reggaeton, British and American oldies, and occasional blasts of country music fill the air, there is a broad multicultural mix of North Americans, Europeans, and Dominicans all casually chatting in the open-air breeze over various beverages, coffees or meals. Small local work crews also pop in for refreshment and to trade a few colorful barbs over their latest jobs.
There is no doubt that the mixing, mingling, and relaxed multicultural interracial atmosphere of  George's is at the core of its charm — a microcosmic model of the town on whose edge it resides — to while away a few hours at George's is to absorb the more positive essences of the community.
There are always people in George's Oasis Bar community who are involved with or organizing a charity, charitable event or foundation. Charitable events happen at George's throughout the year and it is easy to get involved, get connected or contribute.
Within a few hours, one gets the impression that nearly every expat and many locals in the area, as well as other bar owners, drop in for ice-cold beers, wines, mixed drinks of various inspirational spirits blended with conversations about our fair village, local events, other towns, and regions around the island. They talk about the faraway places they once called – or may still call home and the people who still matter to them no matter how distant they may be. There is much discussion of the travels, adventures, mishaps, and misfortunes that now define and made them into the hapless wondrous creatures they now are at this point. Not that they won't continue evolving into even more refined and improved versions of themselves – it's just that I am very content with the versions I have met here in the now at George's.
We are all brimming with faults and imperfections mirrored in the alcoholically-enhanced libations we hoist to our life-baked hearts and time–parched souls. It's our faults that most characterize us. Our faults announce us most clearly and loudly proclaim who we genuinely are. It is our faults that we can never seem to leave behind no matter how hard we may try. It is our faults that give us eternal purpose in trying to overcome them and develop our characters beyond them.
And that's the thing; there is a continually rotating cavalcade of bars, restaurants, cafes, grills, colmados, and other similar establishments all throughout the improbably warped and debauched adult wonderland that is Sosúa. But there are precious few with the heart, soul, and character of George's — the bar being an extension of the fascinating man himself.
If you're just looking for a drink, go anywhere. But if you're looking for a very local experience with people who will likely become your friends: drop in and say hi to George.