The continuing island journey of discovery
Renn Loren
Arriving in a new world is always a challenge – exciting adventure though it may be.
And so it was for us as we crash landed straight out of the Key West to Galveston trop-rock circuit and into the DR.
Adding to our adventure was the fact that we had 3 animals in-tow and had landed in the steamy heat of mid-August. To stretch our budget we had a non-airconditioned unit and that was fine. Compared to the 39-40.5°C (103-105°F) temperatures we'd just left in the swampy Southwestern regions of Louisiana, the summer heat of a Caribbean tropical island actually wasn't all that bad.
What was a bit unsettling and uncomfortable was the fact that the jobs we'd been offered fell completely through.
Ultimately that was all right. We had online work and were prepared and ready to make a major move anyway. With our islander sensibilities, and having grown accustomed to Key West and Punta Gorda, Florida we preferred somewhere south of the border.
So the DR suited us just fine: extra points that it was in the tropics.
We'd already long ago made the shift to lives of minimalism when we left apartment life for life on the road in a very modest RV.
A whole new world reveals itself when one pares down to living in 240 square feet of space. The outdoors took on much more importance and prominence in our lives – as a living space. Campfires and grills became ritual. Beer and margarita-fueled gatherings around campfires were the height of our social lives. We were very content and didn't need anything more.
Our idea of a big treat was going out with especially close friends to a nearby Mexican restaurant for happy hour.
Occasionally we'd go out to my pedal steel-guitar player Johnny Briggs' place 22 miles east to enjoy afternoons and early evenings eating BBQ with him and his wife in their yard.
Other than travel to island destinations, road trips, mountain, and desert adventures: times spent with friends over food, drinks, and a campfire were my favorite times.
They still are.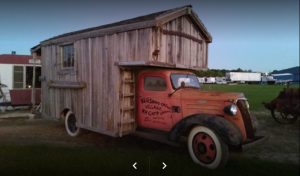 Getting to know about life on the north coast has been its own journey of discovery. There have been so many unexpected surprises: how good the food is in general, how rich, varied, dynamic, and interesting the history is. From the island's original indigenous Taino inhabitants to the Spanish and French settlers to the pirates of the Caribbean era and on… One could spend years just studying the histories of the different towns and regions let alone the whole island.
Most of us are well aware of the pirates, renegades, and fugitives that inform the history and character of the DR. We experienced a bit of that side as well. But perhaps the biggest pleasant surprise is that there are so many intriguing and compellingly interesting people with incredibly fascinating legitimate backgrounds and stories living here. Both locals and expats alike. There are some truly good-hearted selfless people in these communities.
Next Saturday I'll tell the story of one such person who has left a very bright and positive mark on the community. With no background in baseball, he ended up helping and inspiring many future baseball heroes on his own personal island journey of discovery.
Stay tuned and thirsty, my friends…