More kite action in Cabarete!
Renn Loren
Charles Osterlund
Xtreme Challenge Downwinder – Dominican Republic Cabarete to Buen Hombre
12 Participants – 1 Xtreme Kiteboarding Challenge that has never been attempted in the Dominican Republic!
Following the Cabarete Kite Festival, the Xtreme Challenge Downwinder keeps the action, excitement, and sport cranking on the north coast of the Dominican Republic this coming week.
Today, August 10, 2019, the organizers of the first-ever Xtreme Down Winder Challenge will be selecting the day for the event. The 12 selected participants have been rigorously preparing not only mentally but also physically for the challenge. Studying maps, wind forecasts, checking equipment and practicing down-winders to prepare their muscles and minds for the brutal challenge ahead. During the last event meeting, the schedule was finalized. The schedule created will help keep the kiters on track to have a chance to successfully finish the challenge before dark. 
Official Xtreme Challenge Schedule:
8:30- All riders are at the starting location in Cabarete for breakfast and skipper meeting
8:30- Boats must be in Cabarete ready
8:45- Support and Media team begin loading boats
9:30- Equipment is prepared, checked and ready
10:00- Start
10:25- Sea Horse Ranch, Cabarete/Sosua
11:15- Malecon, Puerto Plata 
12:00- Amber Cove, Puerto Plata
12:45- Playa Cambiaso, Luperon
13:15- Fricolandia, La Isabela 
14:15- Punta Rucia
14:40- Cayo Arena
15:15- Buen Hombre
Total Trip: 5 Hours 15 Minutes at 15 MPH Average
The challengers will not only have to battle against the elements – they will have to battle against their own minds and bodies. For what will seem like the longest 5 hours of their lives they will have to be on constant alert to the wind and waves while making sure they stay on schedule.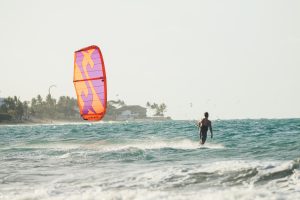 Joselito Del Rosario, one of the Xtreme Challengers, emphasized the importance of being vigilant concerning weather because of a situation that happened to him exactly 10 years ago in August of 2009. The long story short version is that while running a downwinder challenge from Cabarete to Puerto Plata he encountered bad weather. His friend and kite buddy Posito Martinez and himself were caught in a weather system that left them windless and out at sea. After swimming for many hours, Posito made it back to shore with no sign of Joselito. Joselito ended up drifting out to sea where he spent the night as rescue parties failed to find him. Luckily… the next morning at about 9:00, a local fisherman saw something far out to sea on the horizon. Upon getting closer he saw the kite where they found Joselito alive laying inside of it.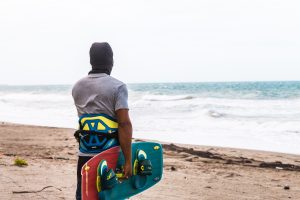 "You have to always be ready for what's ahead of you. This means both mentally and physically prepared, especially before entering such a big challenge such as this 70-mile down-winder. With mother nature, you never know what might happen… I personally learned my lesson 10 years ago on a down-winder when I got lost out at sea for over 12 hours overnight because the wind died! Despite this traumatic experience, I am more ready than ever to take the risk once again and attempt this downwinder challenge! Exciting times are ahead for us." – Joselito Del Rosario (Waterman & Participant)
Despite what has happened to Posito and Joselito, the challenge will take place. The organizers and team have done the research and planning to ensure that the challenge is hypothetically possible. Only time will tell… The answer is blowing in the wind. Literally.
"We have thought of the different scenarios and taken as many measures as we can to ensure the completion of this challenge. Now we must wait and see if Mother Nature will help us out. The pressure is building though so is the excitement!" – Charles Osterlund (Event Founder, Organizer, Waterman & Participant) 
Stay tuned as we announce the official day of the Xtreme Challenge-
Contact Charles Osterlund – Event Founder & Organizer, or Samuela Mule – Event Organizer for further inquiries or media-related information. 
Be part of the adventure by following @lbcabarete on Instagram!
Contact: Charles Osterlund / Samuela Mule
Xtreme Down Winder Challenge – Dominican Republic
Telephone: +1(849) 271-9573 / +1(829)  278-4114
Email: [email protected] / [email protected]  
www.lbcabarete.com / @lbcabarete 
Photos: https://we.tl/t-iTXSsxi4Tv