Barrio Blanco: an American – Dominican success story
Renn Loren
With all the unwarranted negativity the DR has received in light of a highly unjust recent media campaign regarding the deaths of American tourists (FBI investigations concluded nothing suspicious happened. All deaths were in line with statistics) it is important to note that some extremely powerful and positive things have been happening in the Dominican Republic.
Quietly out of the spotlight and off the radar screen of mainstream media: stories of generosity, compassion, hope, and human dignity prevail in this island nation.
In these days of deep political divide and chaos in a world where unfettered capitalism has many people reevaluating their personal stances on what responsibilities we may each have as individuals toward our fellow human beings, Ron Zauner has decided to act rather than to mull it all over.
His one-man and his family campaign to lift a community up from the despair of abject poverty and give it hope for a brighter future has been a surprising ongoing success and a shining example of how one person can make a huge difference. 
This week Zauner has returned to Barrio Blanco in Cabarete on the DR's north coast.
On this trip, he'll build a new home, install a water system to provide clean drinking water to every tap in the barrio, celebrate the graduation on November 1st of the First University Graduate ever from Barrio Blanco: single mother of three Raquel Gomez, will become an accountant.  
Zauner and the community are going to honor her as a "You can do it too" example to the rest of their 35 scholarship students. He also hopes to make a new garden where the entry opens to the barrio in honor of a young, well-liked man who died a few weeks ago at 21 years old.  One of Zauner's medical students.
–A Tragedy in the barrio
Maken, one of the Scholarship Medical University students, died. Everyone liked Maken. Everyone. He was full of life, enjoyed being a rap music performer, but prioritized becoming a doctor. His kidneys failed, and inside one week, he passed away. If possible, Zauner is hoping to plant a beautiful garden in his honor. Below is his photo, and a photo from his funeral. Rest in peace, Maken.
By his estimations, eight years after he first began the project at Barrio Blanco, it is now better than 70% along the way. The remaining need is primarily education leading to good employment, nutrition and health. The most important parts are falling into place.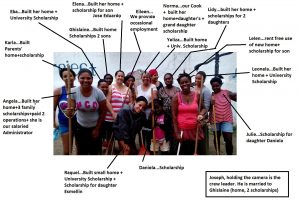 Zauner was in Barrio Blanco at the end of May and felt like he needed to have a serious talk with the community. He felt it was time for the residents to show True Pride in their neighborhood and home-fronts. He told the residents that he was ready to do his part to lift the neighborhood, but he wanted to be proud of what they accomplished together, and litter and trash here and there was really bugging him. They could make Barrio Blanco… nice!
Zauner then asked for their effort so he could feel proud of Barrio Blanco. He enticed the community to surprise him.
He found his message had been well received—beyond his dreams.
The meeting closed at 8:30 pm.  The next morning at 9:00 am he stopped by the barrio to say goodbye on the way to the airport.  Zauner was honestly shocked. While he didn't go through the whole barrio, what he did see was spotless—not a scrap of litter. Wow, he was impressed when he stood at the entrance and everywhere he looked was clean. This is how it looked that morning: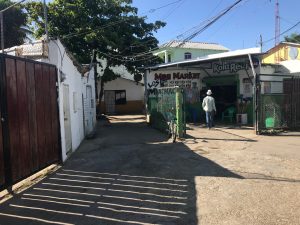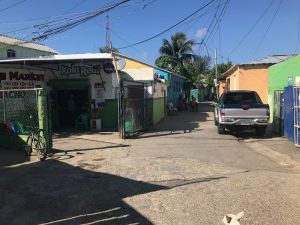 During the next several weeks after he returned home, Zauner began receiving photos and communication from Angela his on-site liaison.  The residents had been talking among themselves and made plans, and began to make Barrio Blanco a place THEY could be proud of too.
Piles of litter that had accumulated in unused corners were cleaned up…. and replaced with flower gardens. Small ones, but several, spread out throughout the barrio. They arranged prizes for residents who made their homes and lots nicer looking. 
They contacted a few government contacts for help cleaning the canal. They made around 16 litter baskets and mounted them around the barrio. They cleaned walls, repainted the whole entryway, and another wall that needed it. Here are some of the photos Zauner received: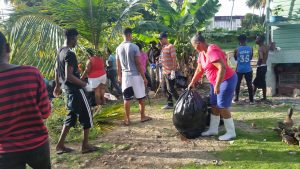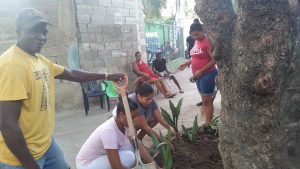 This is a step-up. It is a step up in cultural change not to litter in THEIR barrio. Taking ownership, and pride in the community was simply not something they considered before as a shack village. They weren't able to. They'd never been given the chance nor the teaching. This time has come. Zauner is very happy with this effort and understanding. And though he knows it will probably take a bit of persistent nudging, he is truly proud of the barrio residents' efforts and how they absorbed and implemented his message.
Zauner would never take credit for this himself but his efforts stand as a paramount example of what can be accomplished when someone of good fortunate simply takes the time and makes the effort to care about others of lesser fortunes. Not just those who are like ourselves but just other people, full stop. That's it and that's all.
Barrio Blanco and Ron Zauner provide a very vivid picture of what can happen when one culture reaches across the boundaries, borders, and philosophies that divide us and bridge that gap with the collective needs, hopes, and spirit of generosity that unite and unify us as human beings first and foremost.
If you ever wanted to help someone, somehow, here's an excellent opportunity for one person to make a big difference in many lives. All proceeds, 100% of any donation you may be able to contribute, will go towards materials or benefits for the people of Barrio Blanco. https://www.providingopportunity.org/
I'll let these pictures paint their thousand words.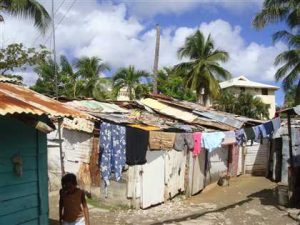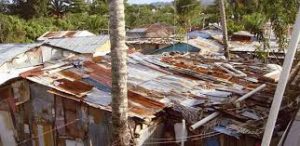 Contact information
Providing Opportunity for Self Improvement, Cabarete, Dominican Republic
Contact Ron Zauner POSI https://www.providingopportunity.org/
Telephone: 541-844-9745
Email: [email protected]
Online: ProvidingOpportunity.blogspot.com
Donations: Providing Opportunity for Self Improvement, 85017 Willamette St., Eugene, OR 97405
Next week we'll go a bit further into the details of some of the ongoing projects and aspirations of POSI