Through baseball Baver connects with the DR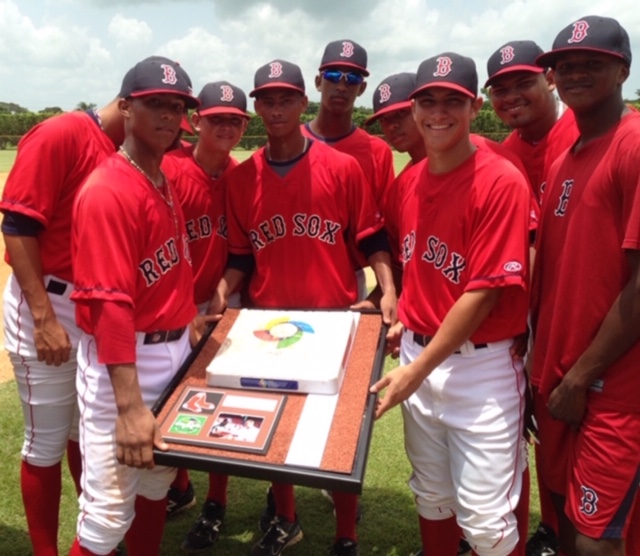 With the Red Sox Academy players in El Toro on the Dominican South Coast, promising prospects from the World's most exceptional baseball country. 
Renn Loren
as related by Hugh Baver
In this installment of this series, we will see how the 2013 World Baseball Classic Historic Base Donation led to Baver's formation of a 2015 Dominican Amateur Baseball Tournament in Providence, RI which honored Pedro Martinez's Hall of Fame induction…
Picking up where we left off, Baver's 2013 WBC Championship game used 1st Base donation to the Boston Red Sox, and the Red Sox Academy in Santo Domingo created a great deal of enthusiasm and support within the most prominent Northeastern Dominican communities. This afforded him incredible access to political officials, public school executives, individuals, students, and young baseball players.
Following his June 2013 visit to Fenway Park where "Big Papi" David Ortiz added his autograph to the Base, Hugh then proceeded to schedule appointments with the Dominican mayors of the two largest New England Dominican cities; Lawrence, MA, (William Lantigua), and Providence, RI, (Angel Taveras). 
Not surprisingly, with very little urging or lead time, both Mayors cleared their calendars to make time to meet with Baver and take photos with the historic base. They then distributed the images and press releases to their respective constituents as a sense of community pride. 
While in Providence and Lawrence, Hugh also visited with students at Lawrence High School, and with young children at the Boys and Girls Club of Lawrence, as well as Little League players in the Pawtucket, Rhode Island Little League.
After all the work invested into its completion, the base almost didn't make it past TSA security as had any traces of fertilizer been detected; it would not have been allowed to fly. 
Fortunately, this did not happen, and Baver boarded a plane from Portland, Maine to Santo Domingo, plastic bubble-wrapped the base in hand. 
Being too large to fit in the overhead compartment and being too valuable to risk transporting in standard luggage storage underneath the plane, Baver purchased an extra seat next to him so he could personally supervise its care during transit.
Touching down in the Dominican capital Baver was welcomed by the JetBlue Airlines Manager and counter staff who took the opportunity to greet him in the jetway with cheers and a large Dominican flag. 
Eager to get a glimpse of the precious cargo, he was escorted to a secure area where he unwrapped the base for all to see. Shortly afterward, the JetBlue Santo Domingo General Manager recorded this video: https://www.dropbox.com/s/3n76ukui591kn95/JetBlue%20Santo%20Domingo%20Airport%20welcome.MOV?dl=0
As previously reported in an earlier chapter, the next morning, Baver delivered the famous/historic base into the hands of Jesus Alou, Dominican patriarchal baseball icon and Director of the "Academia Medias Rojas." As fortune would have it Red Sox pitching legend Pedro Martinez happened to be visiting the academy and on hand to be part of the presentation. 
NOTE: For a point of quick reference, remember it was from Baver's baseball trips to the Red Sox Academy that he first learned about Sosua…
Baver considered what he could now do as a follow on program to build upon the momentum of this dynamic 2013 experience? Then the idea came to him. Leveraging his newfound credibility in New England Dominican communities and the many new contacts he had established, what if he could organize a Dominican Amateur baseball tournament in the Boston area?
In early May of 2015, after being invited to throw out the 1st Pitch in Providence on Little League Opening Day with Mayor Jorge Elorza, he seized on the opportunity and broached the topic with the Mayor and city officials. He inquired if they would be open to hosting a baseball tournament of this type in their city. Encountering little resistance, he quickly gained their concurrence, and the "Future Hall of Famers Amateur Baseball Classic Tournament" was born.
Created to honor Red Sox Dominican pitching legend Pedro Martinez's 2015 induction into the Baseball Hall of Fame, Baver brought together teams in 3 age categories. The teams were from those same Northeastern Dominican communities he had earlier visited with "the base" (Providence, RI, Jamaica Plains inner-city Boston, and Lawrence, MA). 
For a genuinely International flavor, Baver then added a 4th team to the tournament contacting a crew hailing from Manoguayabo, DR, Pedro Martinez's birthplace.
In addition to promoting spirited team competition and honoring Pedro's Hall of Fame induction, the mission of the tournament was for the young players to forge new friendships with their Dominican brethren. The mission was an absolute success as the players exchanged their contact information adding many new Facebook and Instagram friends.
Throughout four days from July 22 – 26th and in partnership with the City of Providence, 12 qualifying games were played at four fields in the Providence area. The final Championship game, played at the Johnson & Wales University stadium, pitted the team from Manoguayabo, DR vs. the host city Providence. Providence Mayor Jorge Elorza threw out the 1st Pitch, and the Dominican Delfines team captured the Championship.
The manager of the Dominican team, "Punga" Almanzar, was one of Pedro Martinez's boyhood coaches in Manoguayabo. Since the 2015 tournament, Baver and Almanzar have remained friends culminating in a trip he took earlier this summer from the North Coast to Manoguayabo to visit with his old friend. 
Baver plans to deliver a large shipment of used Baseball equipment, which originated in Boston to 3 fields in the inner city region of Santo Domingo, including "Punga's."
Jet Blue Article: http://blog.jetblue.com/first-base-makeit-home-safe/
Video link to a bi-lingual promo of Future Hall of Famers Amateur Baseball Classic Baseball Tournament with Lawrence, Massachusetts Dominican Congressman Marcos Devers:
2013 DR WBC Base Donation Baseball Trip Complete video:
https://www.dropbox.com/s/lf2q3aqoweqf1ao/DR%20Baseball%20Trip.mov?dl=0
2015 Future Hall of Famers Jersey Presentation https://www.dropbox.com/s/fzc874w44igw13r/Santo%20Domingo%20Jersey%20Presentation.mov?dl=0
Next week, the formation of Sosua75.org NPO, moving from New England to the DR, working with Sosua's "The Pitch" batting cage, meeting US Ambassador Robin Bernstein, and his plans to build a Dominican Cultural Education Center on the North Coast…