Sosua's beach is militarized to uproot it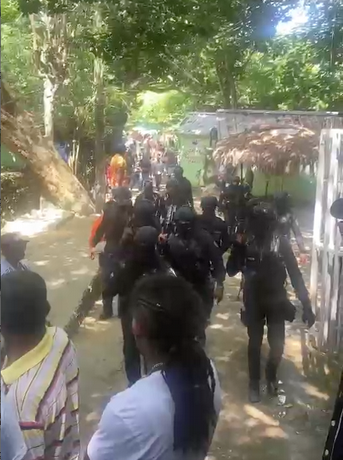 Money talks
Sosúa, Puerto Plata, DR
The beach of Sosúa was militarized amid the conflict maintained by the vendors who operate in the area due to the initiative of the Ministry of Tourism which seeks to build a plaza to relocate them.
The vendors attributed the action to the interest in removing them and privatizing the beach and to the fact that they had been summoned to a meeting on Monday, which they were unable or refused to attend.
The Ministry of Tourism insists that the beach will not be privatized and that it seeks to uproot it, beautify it and guarantee that visitors can have a better environment in the area.
The representatives of the beach vendors are demanding the construction of a plaza on the beach they currently occupy, in addition to the proposal of Tourism to build it on the adjoining lot ceded by the Pastoriza family.
Another of the claims is that they are granted a space of 150 meters instead of the 100 meters proposed by the Tourism Commission.
The initiative to organize and uproot the beach has received the support of the business community of Sosúa, the Association of Hotels and Restaurants of Sosúa and Cabarete, as well as Mayor Wilfredo Olivence (Willy El Chamo).
On June 22, in an act headed by President Luis Abinader and Minister David Collado, the start of the work was announced after a tentative agreement was reached with the representatives of the booth owners.
However, since then, negotiations have stalled.
Local sectors have questioned the fact that Deputy Aníbal Díaz leads the refusals from Santo Domingo and that the local deputies, who know the situation and could achieve a better environment for the solution of the problem, have not been included.
The situation of the slums on the beach and the prostitution that swarms the streets of this municipality are considered problems for relaunching local tourism. The government announced in June an investment of RD$600 million for the works that Sosúa needs.
Conflict
No agreement.
Members of the National Drug Control Directorate (DNCD), the National Police, and the Tourism Police intervened in the beach installations in the municipality of Sosúa after the government and the vendors failed to reach an agreement on the size of the three plazas to be built on the site.
Fear.
The vendors fear that as has been done from "Casa Marina to Cabarete, where they privatized the beaches."