Forest firefighters extinguish fire in Cabarete and Goleta Lagoons Natural Monument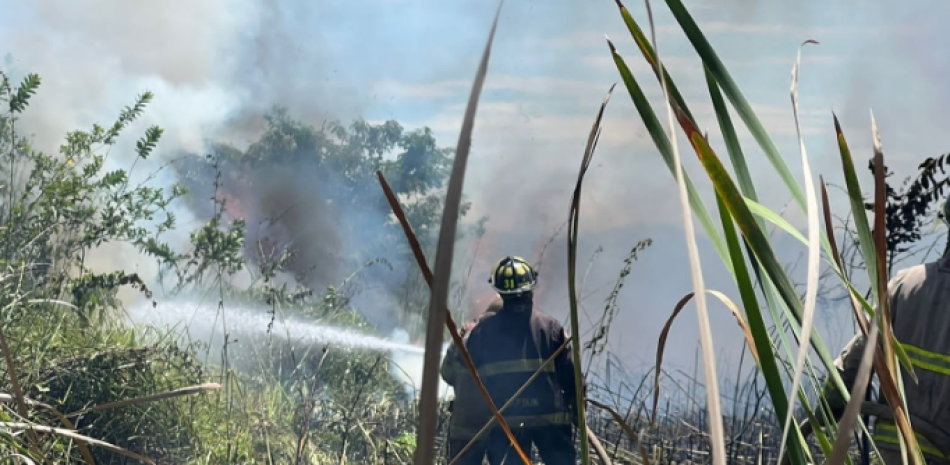 Forest firefighters extinguished the fire that originated within the limits of the protected area of the Lagunas de Cabarete and Goleta Natural Monument, located in Sosúa, Puerto PlataMINISTRY OF ENVIRONMENT AND NATURAL RESOURCES
On Wednesday afternoon, forest firefighters from the Ministry of the Environment and Natural Resources put out a fire that originated within the limits of the protected area of the Lagunas de Cabarete and Goleta Natural Monument, located in Sosúa, Puerto Plata.
Gerónimo Abreu, in charge of the Environment's Fire Management Program, indicated that "since the fire started at 2:00 on Tuesday afternoon, 15 municipal firefighters, 12 forest firefighters and park rangers, four technicians and supervisors of the Environment, as well as eight community volunteers were mobilized, and around 6:40, 80% of the fire was extinguished."
He explained that the fire started in the La Ciénaga area and spread to the Islabón and Bombita communities along the limits of the canal, an artificial physical barrier that delineates the protected area.
"Although there was no fear of affecting homes in the communities of La Ciénaga and Islabón, because the canal prevents it, in the community of Bombita it was 90% controlled by the structural firefighters," he said.
Abreu said that "according to preliminary reports, the cause of the fire is that it was arson and started in the area of La Ciénaga, and the wind spread it to the area of the lagoon, setting fire to the reeds."