Responding to the coming trade disorder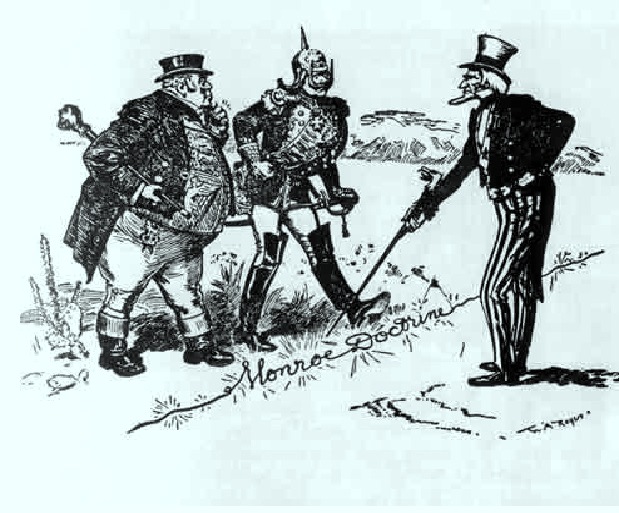 Uncle Sam-Monroe-Trump Doctrine
David Jessop, Dominican Today senior Op-Ed contributor
A few days ago, an astute observer of the US political scene told me: "Watch what the new administration and Congress does, not what the President tweets". "That is the secret of understanding future US policy", she said.
If this is correct, the Caribbean should ignore the noise and think hard about the implications of a nine-page document sent on March 1 to the US Congress by the office of the US Trade Representative (USTR). It makes clear the radical ambition of new administration.
In stark and confrontational terms, it sets out the President and his advisers zero-sum thinking on trade.
It makes clear that every trade-related action that the US administration intends to take, will 'be designed to increase (US) economic growth, promote job creation in the United States, promote reciprocity with our trading partners, strengthen our manufacturing base and our ability to defend ourselves….'
It suggests that all trade relationships will in future be transactional, that geo-political considerations will be set aside, and that bilateral discussions will be prioritised over multilateral trade negotiations.
The document states bluntly that the Trump Administration 'will aggressively defend American sovereignty', 'will not tolerate' practices that harm US workers' interests, and 'will use all possible leverage to encourage other countries to give US producers fair, reciprocal access to their markets'.
When it comes to the WTO, the document, 'The President's New Trade Policy Agenda', indicates that the US will cease to comply with dispute settlement rulings that are not in its favour. Observing that such WTO procedures are 'not binding or self-executing', it argues that any adverse rulings should not 'automatically lead to a change in US law or practice'.
Put more simply, the US appears to be about to set aside the WTO's dispute settlement procedures when it does not like the outcome.
It implies that either the US will cease to participate in the present multilateral rules-based approach, or by ignoring negative rulings, cause its relationship with the organisation members to fall into abeyance, and trade disputes to be settled bilaterally.
This is a scenario that does not bode well for the ACP or small states in general.
For the last two decades, on issues from bananas to rum, the WTO has enabled the region to achieve negotiated outcomes that take account of many of its trade concerns. It has also enabled satisfactory final settlements in disputes, although in the case of Antigua's 2004 action on gaming, the US has still to agree a satisfactory outcome.
More generally, the WTO has been able to smooth the process of economic globalisation though mechanisms that encourage dialogue and consensus, has provided a forum for often highly technical and slow moving conversations about difficult tariff issues, and has achieved global acceptance that its rulings are binding.
Despite this, few nations have yet been prepared to say plainly how the US's mercantilist agenda threatens the existing global trade order.
However, in a likely indication of where the lines will be drawn internationally, Cuba recently made clear in a regional context where the new US policy may lead.
Speaking in Caracas on March 5 to a summit of member countries of the Bolivarian alliance (ALBA), President Castro did not mince his words. "The new agenda of the United States government threatens to unleash extreme and egotistical trade protectionism which will impact the competitiveness of our foreign trade; violate environmental agreements to favour transnational revenues; (and to) persecute and deport migrants….", he said.
If taken to its logical conclusion, the new US trade policy will almost certainly create the disorder that President Castro described. However, it may also start a process that remakes multilateralism in in the longer term, between nations that understand how with adjustments, interdependence and economic globalisation can enhance global economic and social development.
While the US will remain one of the world's most powerful economic players, other nations including China, Australia and the countries of Europe remain committed to multilateralism. This suggests that together they are likely to want to see existing mechanisms remain viable, and to ensure their trade and other ties remain governed by an enforceable rules-based system.
Secondly, the new US policy is driven by populism, the past, by decline, a loss of global status, and a nostalgia for older industries. While such factors are common traits with electorates and politicians in many countries, they are passing. They do not reflect the objective global reality of interdependence in manufacturing and services, that for good and bad, economic globalisation has created in recent years. Nor do they relate to the real world of trade where productivity, efficiency and competitiveness, lead inexorably to complex international supply chains, robotics, globally delivered services, and the ability of finance, profit, and employment to leap borders.
And thirdly, if US trade policy ceases to be related to US geopolitical imperatives, global economic leadership could change. China, Europe and others may emerge, once the shape of US policy becomes clearer, as the new global champions, drawing nations into new regional and international configurations by gradually reducing tariffs and restrictions on imports of goods and services.
The US administration's desire to have trade policy turn inward to reflect its domestic political objectives is understandable, if unwelcome. However, the reality is that, with a very few exceptions, the world economy has become globally integrated, causing nations to need the balanced multilateralism from which the US now seems to wish to exempt itself.
In the short term and uniquely, the Caribbean, in the short-term can respond bilaterally.
Late last year the US Congress passed, on a bi-partisan basis, The United States-Caribbean Strategic Engagement Act of 2016. This offers the Caribbean, unlike any other part of the world, a legislatively binding timetable within which the US government must come up with a clear plan as to how it intends developing a programme of support for the region.
The Act places the Caribbean squarely on Congress' short-term agenda, requiring evidence of need on issues from trade to climate change that, with US support, might be addressed.
It offers the region other than Cuba, an opportunity to develop a strong direct, political and functional dialogue with the US Congress, while considering how in the longer term the coming trade disorder may change the global economic landscape.
David Jessop is a consultant to the Caribbean Council and can be contacted at
Previous columns can be found at www.caribbean-council.org