Caveat Emptor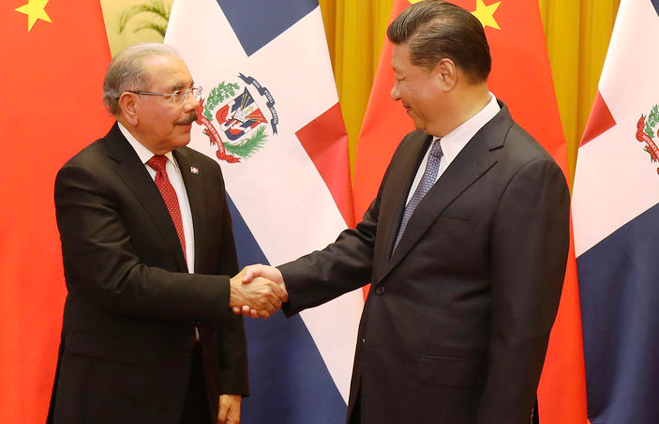 Presidents Danilo Medina, Xi Jinping
By Miguel Terc
In the Latin language, caveat emptor means 'let the buyer beware' and this warning should be inscribed in all of the Dominican Republic's commercial contracts and diplomatic relations with mainland China.
In doubt? Ask the one million Chinese Uighurd in Chinese jails who are members of an ethnic minority being persecuted ruthlessly, or ask the citizens of Tibet, about the Chinese takeover of their country and continuous religious persecution of their population.
How about higher education in mainland China? Well the emphasis definitely is in memorization and the values of obedience, typical humanoid traits, instead of fomenting critical and creative thinking.
China has also banned 15 million of its citizens from traveling by train or airplane, owning motor vehicles or having any access to the Internet. They claim that this measure is in order to "purify" their society. They are also on pace to install 600 million CCTV video cameras by 2020 to carefully watch and MONITOR their population.
According to the article dated November 05, 2018 in the Listín Diario by DR formerdeputy for the FNP (Fuerza Nacional Progresista) Vinicio Castillo Semán, the Dominican Republic signed an agreement of 'political consultation' with China which the main focus is to 'work together in multilateral forums.
According the article published by the former lawmaker, this statement was made by DR president Danilo Medina, which compromises the independence and sovereignty of the Dominican Republic by signing an agreement with China of what is or what would be the actions of the country in multilateral forums such as the United Nations.
This alleged agreement was signed days before the DR had the support and the blessings of China in favor of the country becoming a non permanent member of the UN Security Council.
Castillo states in his article: "One thing is that China, no doubt the second largest global power in economy and commerce, helps us in investments for our development, but another very different thing would be the price the DR has to pay in exchange is to get down on its knees or align ourselves with their foreign policy, or worse still become directly or indirectly part of their continuing confrontation with the USA which is our main trading partner and a relation that must be preserved and strengthened for the good of our social, political and macroeconomic stability."
Unlike purchasing goods with a return policy in case of a change of mind or a disappointment in their quality, once we start compromising the DR's sovereignty there is no turning back or possibility of a "return" or undoing the failed policies that could cause a rupture in our relations with the USA, or even worse mortgaging the natural assets of the DR for generations to come.