Major daily says Environment Minister is lying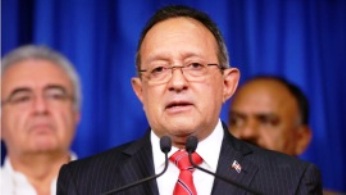 Environment minister Angel Estevez. File
Someone lies …
"Newspaper Diario Libre, in the heels of complaints from environmental groups that harvests in Valle Nuevo continue, sent a team of reporters to the area equipped with a drone, to check the complaint, because we do not talk to talk.
"The aerial photographs taken in various areas clearly showed not only that the crops were continuing, but also that the different planting stages in which they are found were an unequivocal sign that the crops had not stopped, which was confirmed by the farmers themselves . On the other hand, it was possible to verify the existence of nurseries of seedlings to be sown.
"All those photographs were published so few days ago that it is impossible to deny their actuality and existence.
"Therefore, when the Minister of the Environment affirms that there are no crops in the area, he is not telling the truth, either because someone with interests gave him false information, or because he did not want to verify what was reported.
"In this case, someone lies and it is not Diario Libre which carrying out its informative duty, went to the source and collected the evidence.