2015 Dominican Republic Jazz Festival lineup to feature Grammy award winners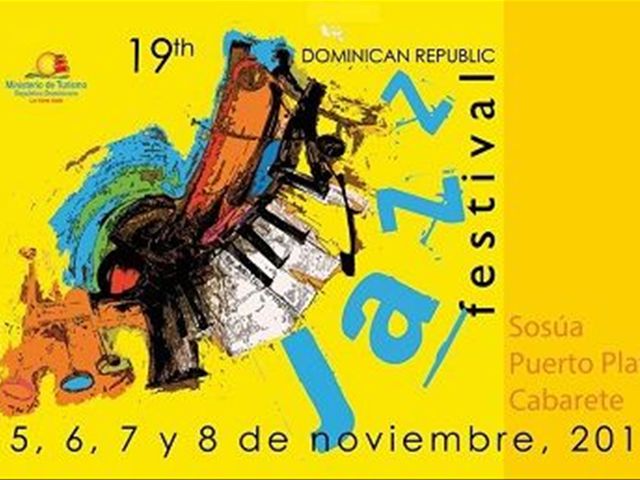 Cabarete, Dominican Republic.- The 19th Dominican Republic Jazz Festival willcelebrate five nights of free concerts, Nov. 4-8, 2015, in the towns of Santiago, Sosua, PuertoPlata, and Cabarete. Presented by the Dominican Ministry of Tourism, the renowned culturalevent enjoyed a combined audience of 12,000 people for the 2014 festival.
The addition of a fifth night (November 4th) to be held in Santiago, at Centro Leon, marks the firsttime the festival will reach all five cities in the same year, and the first time in five years since thefestival was held in Santiago.
Confirmed artists for the 2015 Dominican Republic Jazz Festival include GRAMMY Award winnersDavid Sa´nchez (Puerto Rico), John Patitucci (USA), and the GRAMMY Award nominee PedritoMartinez Group, along with other outstanding talents Josean Jacobo (Dominican Republic), RoyAssaf Trio (Israel), Berklee Global Jazz Institute (USA), Javier Vargas and The Big Band Conservatoryof Santo Domingo (Dominican Republic) with Special Guests Jim Kelly, Jim Odgren and JasonCamelio (USA). Additional artists include the Student Loan String Band (USA), Manuel Tejada(Dominican Republic), Mario Canonge Trio (France) and Pengbian Sang and Retro Jazz (DominicanRepublic).
Since its inception, the Dominican Republic Jazz Festival has presented internationally renownedLatin Grammy and GRAMMY Award winning musicians such as Ignacio Berroa, Joe Lovano, ChuckMangione, Ray Baretto, Ne´stor Torres, Chucho Valde´s, Horacio "El Negro" Hernandez and ArturoSandoval among many other talents.
The Dominican Republic Jazz Festival provides more than culture and entertainment with itsaffiliation with FEDUJAZZ, a non-profit organization that conducts music education workshops forDominican youth. Hundreds of schoolchildren from the North Coast of the Dominican Republicannually attend educational music workshops with renowned musicians from the jazz festival.
The FEDUJAZZ music program held in Cabarete aims to educate children with structured musicprograms that enhance their education and increase their opportunities in life. Currently there areover one hundred and fifty students being provided free music education and training in the newcenter in Cabarete.
The 19th Dominican Republic Jazz Festival is presented by the Ministry of Tourism, and sponsorsinclude Ron Macorix, JetBlue, the United States Embassy, Berklee Global Jazz Institute, GratereauxDelva & Associates Law Firm, Sea Horse Ranch Luxury Resort, Ultravioleta Boutique Residences,Millennium Resort & Spa, Casa Linda, the Municipality of Sosu´a, Cibao Recycling and Ban Reservas.
XIX Dominican Republic Jazz Festival Line-UpNovember 4-8, 2015
Wednesday, November 4, 2015 – Santiago, Centro Leon
? Big Band Conservatory of Santo Domingo with Javier Vargas (Dominican Republic)Featuring Special Guests Jim Kelly, Jim Odgren and Jason Camelio (USA)
? Student Loan String Band (United States)
Thursday, November 5, 2015 – Sosua, Casa Marina Amphitheater
? Big Band Conservatory of Santo Domingo with Javier Vargas (Dominican Republic)Featuring Special Guests Jim Kelly, Jim Odgren and Jason Camelio (USA)
Roy Assaf Trio (Israel)
Friday, November 6, 2015 – Puerto Plata
Manuel Tejada (Dominican Republic)
Berklee Global Jazz Institute (USA)
David Sanchez (Puerto Rico)
Saturday, November 7, 2015 – Cabarete, Cabarete Beach
Josean Jacobo (Dominican Republic)
John Patitucci (USA)
Sunday, November 8, 2015 – Cabarete, Cabarete Beach
Mario Canonge Trio (France)
Pengbian Sang and Retro Jazz (Dominican Republic)
Pedrito Martinez Group (Cuba)