Touro Scholarship recipients announced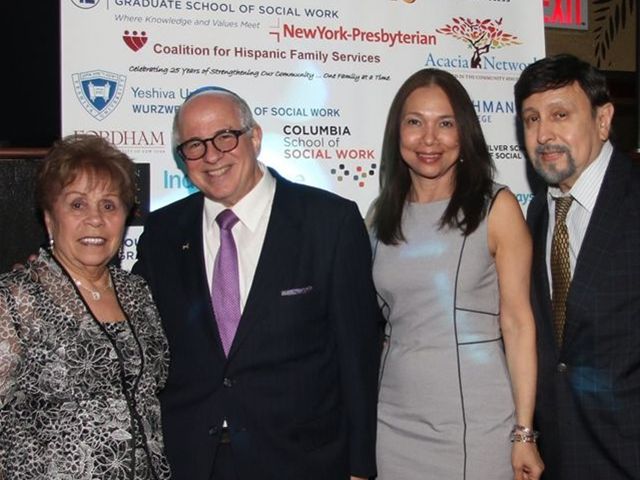 New York,N.Y., May 23, 2016 – Touro College Graduate School of Social Work Associate Professor Annecy Baez, Ph.D. was honoredwith a Leadership Award from the Latino Social Work Coalition and ScholarshipFund (LSWC) at the group's 12th Annual Awards Dinner held recently at TheCopacabana in New York City.
Dr. Baez hasbeen a clinical social worker for over thirty years, working extensively withthe Latino community as a social worker. At Touro, she is director of theSocial Work Latino Student Initiative, where she serves as teacher, mentor andadvocate for supportive services.
"Herlongstanding concern with social justice and cultural diversity, combined withher research and writing that focus on mental health needs of Latinos,encourage relevant exploration of social work issues in the classroom," saidDr. Steven Huberman, founding dean of the Touro College Graduate School ofSocial Work.
Dr. Baezexpressed her thanks, "I am deeply honored to be nominated for this award bysuch an inspiring visionary as Dean Steven Huberman and the Touro faculty andstaff. With deep gratitude to my colleagues Nancy Gallina, Steven Krantz andAllison Bobick, whose belief in me paved the way to a much-loved path and theTouro students who have opened my heart. Deep bows of gratitude to the Board ofthe LSWC whose support has been unwavering."
According tothe LSWC, its mission is to assure an adequate number of culturally andlinguistically competent Latino social workers in New York City as well as toenhance services needed in the Latino Community. To facilitate this goal, itenlists the support of a consortium of NYC's eight graduate schools of socialwork with a commitment of scholarships and funds raised by the LSWC close to$500,000 awarded to 86 students thus far.
At theevent, the first three Touro students to receive scholarships, all advisees ofDr. Baez, were announced: Vanessa Rosa, a first-year MSW student from Brooklynwho resides in the Bronx; Jaime Hernandez, a first-year student from the Bronx;and Marie Reyes, a second-year student residing in Brooklyn. Each student was awarded a scholarship fortheir academic achievements, current or past work experience and theircommitment to serving the Latino community.
Ms. Rosa,who earned her bachelor's degree at Hunter College, started out in social workin 2009, helping homeless families at a non-profit agency in the Bronx. Todayshe works at the Henry Street Settlement on the Lower East Side of Manhattanwhere, she says, "Working with my clients to help them build a new life isextremely fulfilling. They motivate me to make recovery a reality for peoplesuffering from mental disabilities. They are my inspiration."
Ms. Rosasaid she is pleased to help fill the need for social workers familiar withLatino culture. "A lot of the community does not speak English. A lot of timesI go to government agencies and see people…struggling to get their requestsacross," she said.