Berklee College of Music Honors FEDUJAZZ with Award on 20th Anniversary of Dominican Republic Jazz Festival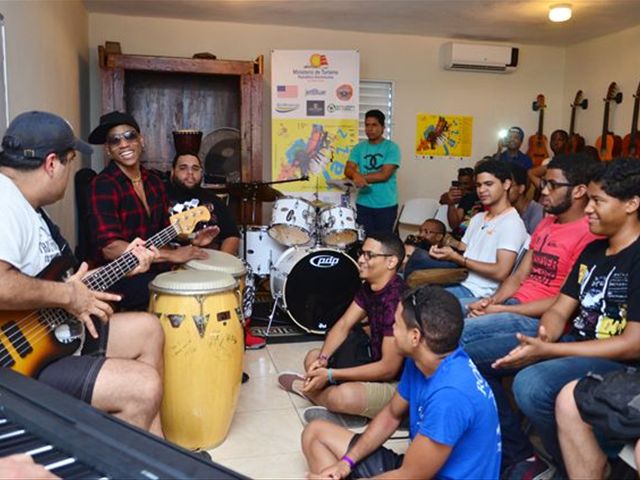 Cabarete, Dominican Republic – Berklee College of Music presented FEDUJAZZ with an award acknowledging the Dominican Republic Jazz Festival's 20th Anniversary and their continued dedication to music, education and Jazz.
The Dominican Republic Jazz festival is one of the biggest cultural events in the Caribbean. Presented by FEDUJAZZ and sponsored by the Ministry of Tourism, the Dominican Republic Jazz Festival annually presents a series of free concerts in multiple cities with participation by internationally acclaimed artists and GRAMMY Award winners including Esperanza Spalding, Terri Lyne Carrington, Chuck Mangione, David Sanchez, Ray Baretto, Nestor Torres, Chucho Valdes, Arturo Sandoval, Ignacio Berroa, John Patitucci and the Pedrito Martinez Group.
The 20th edition of the Dominican Republic Jazz Festival, which was held in November 2016, was dedicated to women, and featured prominent female artists during each of the five nights of concerts. The Festival called for an eradication of violence against women, and encouraged gender equality.
FEDUJAZZ, the non-profit foundation of the festival offers free music education for over two hundred local children, which includes classes in guitar, drums, piano and violin. Many of the artists participating in the Dominican Republic Jazz Festival hold workshops at the foundation to support the musical and cultural development of hundreds of local children each year.
A new FEDUJAZZ curriculum was recently produced with the participation of Berklee College of Music alumni, who served residencies at the foundation. Matt Marvuglio, Dean of the Performance Division at Berklee and Marco Pignataro, Managing Director of the Berklee Global Jazz Institute joined the Dominican Republic Jazz Festival Artistic Advisory Board in late 2015, and have contributed to the expansion of the foundation's programming.
A primary goal of Maria Elena Gratereaux, President, Dominican Republic Jazz Festival and FEDUJAZZ is to increase the social component of the Festival, by growing the Foundation to support local youth. A fundraising campaign is currently underway to purchase additional musical instruments for FEDUJAZZ, as the musical programs continue to expand their support for music education for children in the Dominican Republic.
The 21st Edition of the Dominican Republic Jazz Festival will be held November 1-5, 2017, with artists and cities to be announced.