The Dream Project heads push for library in Cabarete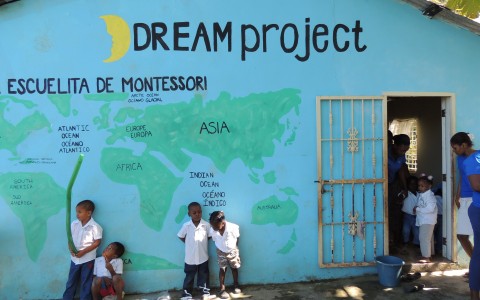 Cabarete, Puerto Plata, Dominican Republic – November 14, 2017. The Dominican Republic Education and Mentoring (DREAM) Project is hosting their fourth annual My Very Own Libraryâ (MVOL) book fair today in collaboration with Scholastic Book Fairs, the world's largest publisher and distributor of children's books.
This event is supported by the family and friends of My Very Own Library founder Anne Feeley (1958-2012), and the Bailey Tuvell Family. DREAM is extremely proud to collaborate with our new corporate Ambassador, UPS. Their generous contribution comes in the form of books, which is the engine that runs the MVOL fairs.
Through the My Very Own Library DREAM Project students select ten new books in Spanish from three Book Fairs over the course of the school year to build their personal home libraries. The book fairs include motivational literacy activities and inspiring special guests that generate excitement for reading, helping parents better support reading in the home. Participating students will be selected from five area public schools as well as DREAM's Early Childhood and high quality primary education programs, including the Montessori Early Childhood Program, Young Stars, Summer Schools and Camps.
To celebrate the launch of this year's fairs, the DREAM Project is pleased to welcome Erison Valera Frías, a local student author and Edison Montero, a Dominican illustrator. Student author Erison Valera Frías, author of Daniel el pelotero ama su escuela, wrote a short story based on his experiences, which won the USAID-MLB Baseball Cares regional competition. Erison, a 14-year-old from San Cristóbal, said he loves to write as a means to express his thoughts and feelings.
This past year, Edison partnered with the Young Author's Lab of the USAID-MLB Baseball Cares Project and brought these students' books to life with his illustrations. Outside of his children's book illustrations, Edison's work can be found in murals, museums, and cultural centers throughout the Dominican Republic. Inspired by Edison and Erison's publication, DREAM will launch a writing competition this year alongside the MVOL book fairs to foster students' passion for both reading and writing.
In addition, the DREAM Project will also announce the release of the second copy of the Mi Mundo student magazine at the first MVOL event. Local students, in collaboration with The DREAM Project, write articles about their community, their neighbors, their culture, and the problems that local youth are facing. These young journalists will be at the My Very Own Library DREAM Project book fair to discuss their work and promote their love of informative reading and writing.
Since 2014, DREAM and My Very Own Library have hosted Scholastic Book Fairs in which 2,000 readers have chosen more than 20,000 books per year to create libraries in their own homes. This program contributes to long-term success for children, as studies show that having books in the home can influence a child's educational attainment level.
Yahaira Nuñez, a 3rd grade teacher in La Unión, notes how My Very Own Libraryè fosters a stronger reading habit in her students: "The fact that the kids have the opportunity to take the books home and read them there has really made a difference in helping my students become readers."
High levels of parent engagement are key to success, and Dominican parents are now able to read more frequently to their children at home due to the program. Lennia Gonzales, a local mother of three, emphasized the impact of the program in her family: "He shares the books with his older brothers and we all sit together to read. After reading, I ask them comprehension questions to make sure they understood the reading."
My Very Own Library, DREAM Project, and Scholastic Book Fairs are proud to have created this commitment to reading.
The goal of the DREAM Book Fairs is to improve literacy rates and ensure that all youth in the country have access to books and a brighter tomorrow, free from the cycle of poverty. DREAM strives to support and partner with the Ministry of Education in the Dominican Republic, reversing the trend of low performing academic results and creating a shared culture of reading and high quality education. To learn more about the DREAM Project and to support this memorable event, please visit: www.dominicandream.org, or http://www.myveryownlibrary.org.
For more information about Scholastic and Scholastic Book Fairs, visit the newsroom at: http://mediaroom.scholastic.com