Vamonos a la República Dominicana! (Let's go to the Dominican Republic!)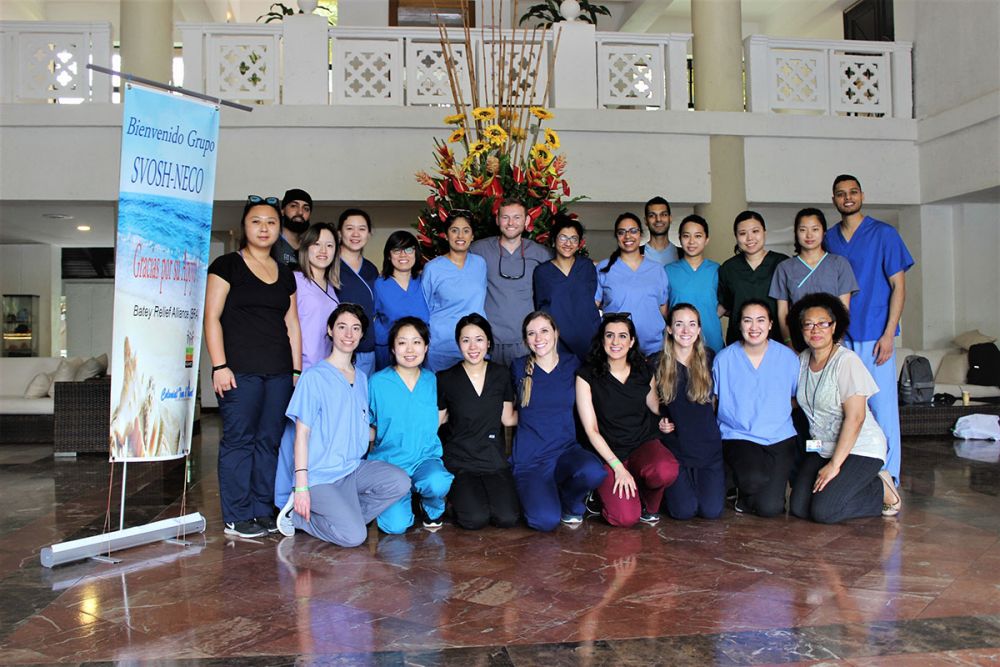 Photo TiffanyVOSH.
Press Release
For the past three years I have been volunteering for the student VOSH (Volunteer Optometric Services to Humanity) chapter at NECO for the opportunity to perform optometric services to underserved communities in a third world country. This year, a group of 22 students, 5 optometrists, and 2 volunteers saw over 800 patients in the Dominican Republic, dividing our week between two organizations – the Batey Relief Alliance in Santo Domingo and Project Mañana in Santiago.
To be honest I didn't think much about joining VOSH when I started at NECO, but the idea of it sounded fantastic. It was a mission trip with your classmates, all expenses fundraised for, traveling to another country, and providing eye care services to those who don't have access to it otherwise.
It all sounded wonderful, but I remember seeing the requirements during the first general meeting and being overwhelmed! I couldn't fathom completing all the hours on top of studying for my classes and practicing my clinical skills. But as my first semester went on, I saw how frequent VOSH provided opportunities to complete volunteer hours.
Completion felt more within reach, and during my second semester I decided to start signing up for hours. If you think about it, it's a total of less than 50 hours of fundraising and volunteer work with the chance to attend more vision screenings with an OD to enhance your clinical experience. Spread out over three years at NECO, it is easily manageable!
A lot of students believe that the VOSH trip is impossible if you don't start your first semester, but a good number of classmates began later in first year or even in second year. By the time I completed my hours, I was midway into the spring semester of second year. I encourage students and prospective students to heavily consider joining VOSH, don't be discouraged by the requirements! I wanted to experience an optometric humanitarian trip at some point, and I feel like there is no better time to start than as a student under the guidance of optometrists.
In the Dominican Republic, I saw some more rare diseases I have yet to see in the eight sites I have rotated through here in Boston. End-stage glaucoma, pendular nystagmus, symblepharon, and hypermature cataracts are conditions I have only seen in lecture, so the trip was a great firsthand experience with certain ocular conditions.
Each doctor gave great clinical pearls to the students as well. For example, Dr. Patel showed how optometry students in other countries learn retinoscopy through the trial frame. It was a technique I have since applied several times since the trip, and probably a technique I would not have observed outside of the VOSH trip.
The VOSH trip is a great way to expand your clinical skills, learn phrases in another language, bond with your classmates, and immerse yourself in another culture. At our second site with Project Mañana, most of the children we had seen have never had the health of their eyes checked before.
Patients were very grateful and excited to get eye exams with us, and nothing was more satisfying than seeing a patient smile when we donated the right pair of glasses to them. The VOSH trip was definitely a fulfilling experience and a trip that we will never forget!