Espaillat gets Carnegie Corporation Foundation's kudos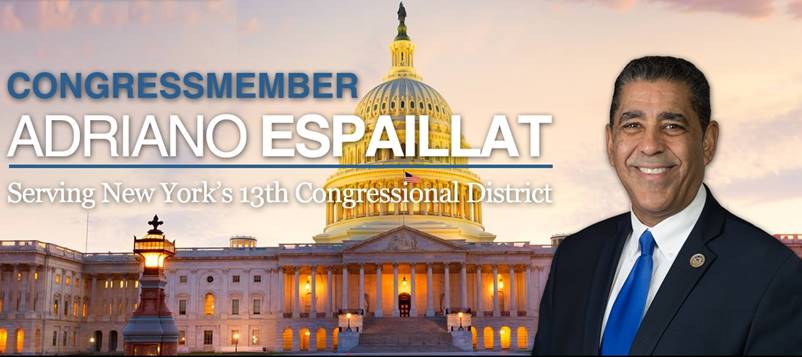 Press Release
New York. – Today, congressman Adriano Espaillat was honored by the Carnegie Corporation of New York on its list of Great Immigrants, an annual tribute by the philanthropic foundation celebrating nationalized U.S. citizens and the invaluable role they play to help advance American society, culture and the economy.
"Thank you to the Carnegie Corporation Foundation for this tribute and recognition among the 37 other Great Immigrants. I am honored and receive this recognition with humility, and as a great encouragement to continue fighting for immigrants both through my legislative work in Washington and throughout my community," said the congressman for New York's 13th District.
Every July 4th since 2006, the Corporation has sponsored the public awareness initiative to commemorate the legacy of its founder, Scottish immigrant Andrew Carnegie, who believed strongly in immigration and citizenship. Today, the tribute to the Great Immigrants is an archive of achievements that presents more than 500 nationalized citizens of the United States. By 2018, the honorees represent nearly 30 different countries of origin, a range of personal migratory experiences and high-level leadership in numerous fields, all united through their experience of becoming Americans.
"Andrew Carnegie understood that immigrants come here to be part of the United States, not to be apart from the United States," said Vartan Gregorian, president of Carnegie Corporation of New York in a statement. "In their faith, their love for the family and their patriotism for their land of adoption, these Great Immigrants have done so much, and will do much more in the future, for this, and for all their contributions, we respect, admire and celebrate them."
Nearly nine million lawful permanent residents (LPRs) are currently eligible to become naturalized and become U.S. citizens. In accordance with the mission of its founder, Carnegie Corporation of New York is committed to the integration of the LPR with the aim of helping them become citizens who can participate fully in the country's democracy.