US Embassy, Ministry fest Fulbright scholarship's 10th year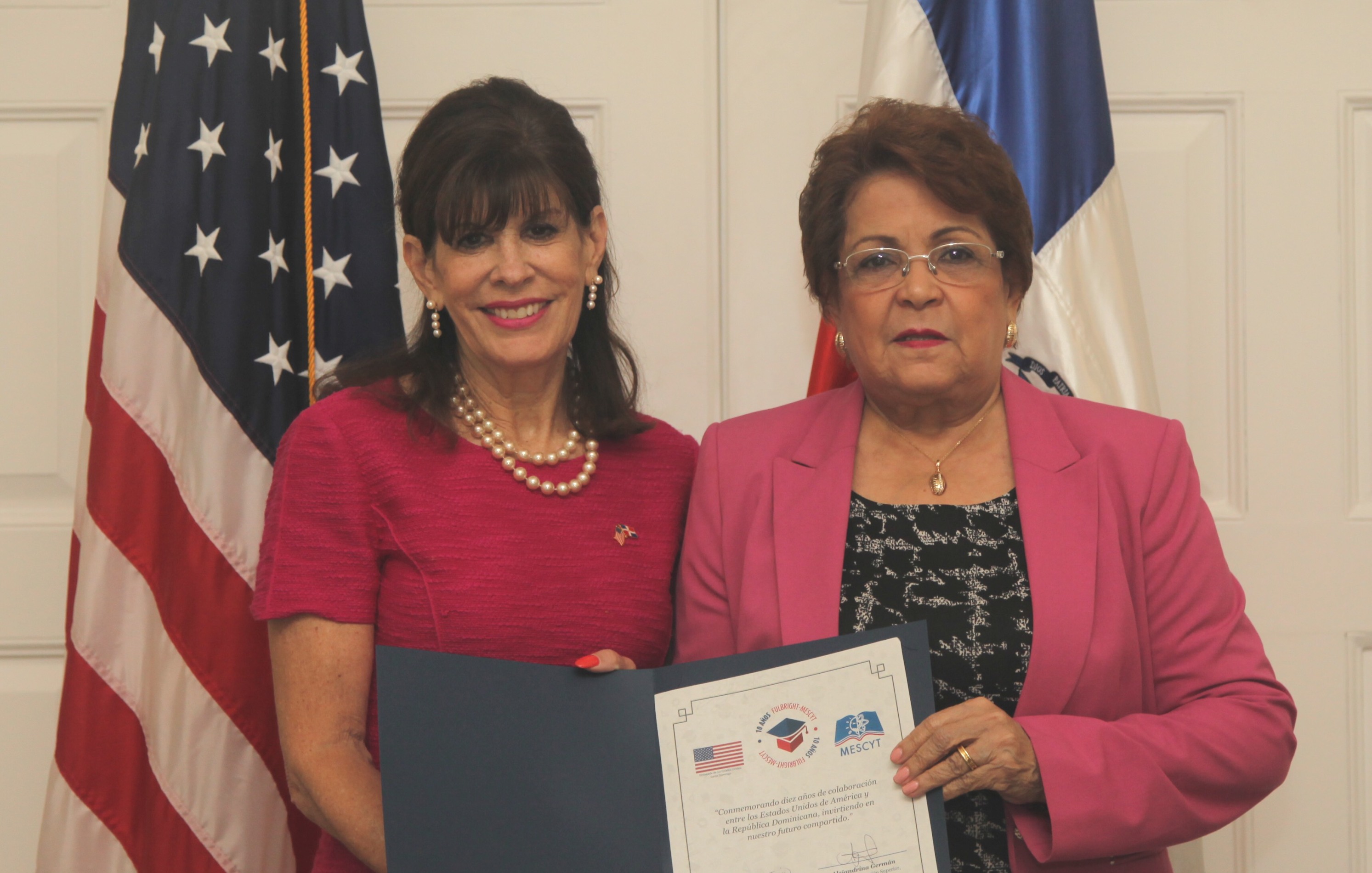 Robin Bernstein, Alejandrna Geman.
Press Release
Santo Domingo. United States Ambassador Robin Bernstein and the Higher Education, Science and Technology Minister, Alejandrina Germán, on Thurs. hosted a reception to celebrate the tenth anniversary of the Fulbright-MESCyT scholarships, which since 2008, under the auspices of both governments, allowed more than eighty Dominican students to pursue masters and doctoral studies in the United States.
"With a joint investment of approximately six million dollars, through the Fulbright-MESCyT program, on average, eight Dominican scholars have gone to the United States every year to conduct study programs in priority areas for the development of the Dominican Republic, such as economics, arts, education, basic and health sciences, international relations, among others," the US Embassy said in an emailed statement.
Ambassador Bernstein stated in her keynote speech that "education and, even more, exchange programs, not only promote economic growth and mutual understanding, but also contribute to improving the lives of people here and in the United States. The exchanges promote academic and commercial relations, improve tourism and increase the opportunity to further strengthen the close ties of those already enjoyed by our peoples. "
While the Minister of Higher Education, Science and Technology, Alejandrina Germán, said that "the contribution made by the program designed by Senator Fulbright has been of great value, since the professionals who have graduated from it have contributed their talent to the development of the country or other latitudes in which they are practicing a professional practice that allows them not only to apply the built knowledge, but to continue moving towards better levels of efficiency, effectiveness and quality in their work."
On the part of the former scholarship community the historian Frank Moya Pons, Fulbright 1967, offered a few remarks on behalf of the ex-grantee community, in which he stated that "I am sure that almost all the grantees must have experienced processes of discovery and cultural transformation similar when they came into direct contact with the American academy and culture, and with thousands of students from all over the world; and I am also sure that the majority will agree that it has been worth living, because they have returned to serve the country as agents of change and modernization, and as subjects with a stronger democratic culture. "
At the reception held at the residence of Ambassador Bernstein attended ex-grantees of the program, members of the diplomatic corps accredited in the country, government officials, business leaders, representatives of civil society, among others.