Tania Polanco Dominican journalist recognized in Puerto Rico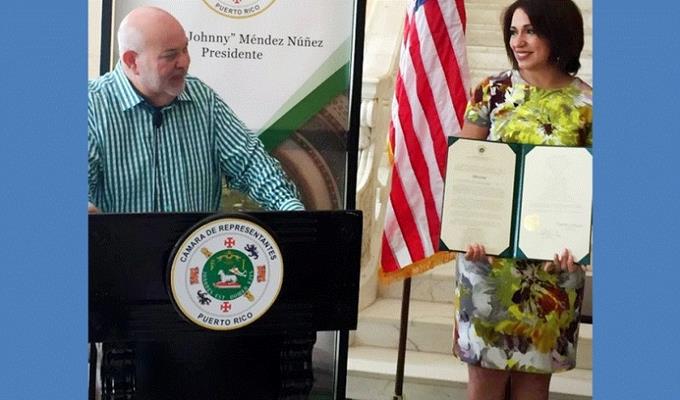 Tania Polanco
The House of Representatives of Puerto Rico recognized the Dominican journalist Tania Polanco for her career and work in the social information area, coinciding with the commemoration of International Women's Day,
The recognition by the Puerto Rican lower house released today in a statement indicates that the Dominican professional has focused on research on social problems, especially in childhood and family issues, for which she was recognized at the Ibero-American Communication Awards (2001).
It emphasizes the recognition that "Her dedication and strength of spirit also shows her in her family environment, as the mother of a child with autism who has achieved her own high achievements, being the youngest child recognized by this House of Representatives."
The ceremony took place in the Hall of the Próceres in the Capitolio-seat of the Legislative one, as the initiative of the representative Néstor Alonso, president of the Commission of Tourism and Social Welfare, and counted on the participation of the president of the Camera, Carlos Méndez.
"We are proud of the women who have different struggles in their care, at home, in their areas of work, in the municipalities, and with their actions make the difference," said Alonso during the ceremony, which were also recognized the municipal legislator Betzaida Martínez, the writer Ingrid Negroni and the educator Ana Vázquez.
Tania Polanco, who was the only Dominican among the honorees, received legislative recognition accompanied by officials of the Dominican government accredited in Puerto Rico as the director of the Dominican Institute Abroad (Index), Adalberto Bejarán, and the vice consul, Mirtha de Moya, on behalf of the Dominican general counsel on the island, Franklín Grullón.
The journalist, with a degree in Social Communication from the Universidad Católica Santo Domingo (UCSD), began her career in Rumbo magazine, a medium that marked a golden age in Dominican journalism.
Polanco also worked for the newspapers Listín Diario and Diario Libre, as well as in various international cooperation programs, such as the United Nations Fund (UNICEF) and World Vision.
In Puerto Rico, she has worked for the newspaper El Nuevo Día and the Inter News Services Agency.