Dominican writer reaps awards with her first novel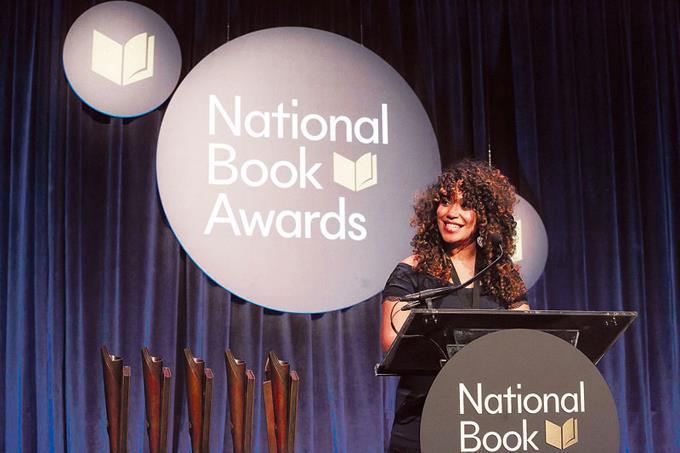 The writer during the National Book Awards gala, which took place at the end of 2018. COURTESY OF ELIZABETH ACEVEDO AND THE NATIONAL BOOK FOUNDATION
Just a year ago, specifically on March 6, 2018, Elizabeth Acevedo, a young writer of Dominican origin, released her first book, "The Poet X".
Since then she has received praise from critics and major international literature awards, including the 'National Book Award for Young People's Literature', 'The Printz Award for Excellence in Young Adult Fiction' and 'The Boston Globe-Hornbook Award Prize for Best Children's Fiction,' in addition to enjoying a few weeks as one of the best sellers according to The New York Times.
As if that were not enough, Acevedo entered the list of eight writers from around the world nominated for one of the most prestigious literature awards in the United Kingdom, the 'Carnegie Medal Award.'
Acevedo spoke with LISTÍN DIARIO about aspects of her novel and her forthcoming publication, "With the Fire on High," both under the Epic Reads editorial.
The latter is also recording an audiobook version featuring her voice.
The book "The Poet X" is about Xiomara, a teenager who is going through several changes in her life.
"What inspired you for the character and why did you decide that she was Dominican?"
 The inspiration for Xiomara came a little from my own experiences and from the questions I had as a teenager. I wanted to write about a character who felt real and authentic, but who is also commonly represented (intelligent, introspective and like a difficult girl trying to discover what kind of woman she wants to be). When coming from a Dominican home, I wanted to see my personal experience in books, so it felt good that Xiomara was Dominican.
You could say that this book is written as a diary or in verse, do you think it has been one of the main factors of its success? 
I think the verse is one of the reasons that the novel is well received. It is difficult to use a poetic way to tell a narrative, because you have to maintain the maximum integrity of both the language and the plot. Not only can it be a good story, it has to be well told, with rhythm and music.
 You also treat problems that are still taboo in the Dominican culture and more from the point of view of Catholics, do you consider that this type of situation is reflected in the Creole families? And according to your experience, do you think that the current Dominican Catholicism is more tolerant with this type of issues compared to other years? 
I think that it is difficult to find stories in the Dominican culture that have characters who question religion, specifically Catholicism. There is no room for those kinds of doubts, at least for the conversations I've had (both when I was younger, and when I worked with teenagers). I know there are many people who have questions that are never answered. I wanted to teach the life of a teenager who is afraid to ask about religion, but who is also struggling with her faith.
What are the topics discussed in your next book "With the Fire on High"?
"With the Fire on High" is a story of an Afro-Puerto Rican teenage mother who lives in Philadelphia and dreams of being a cook. Her food has magical properties, but because of the situation of her family, she does not feel that she can fulfill her dream. It is similar to "Like Water for Chocolate," but in the neighborhood.
Do you also highlight aspects of Dominican culture in this new book?
 Latino culture yes, but this focuses more on Puerto Ricans. My third book will take place in Puerto Plata and Washington Heights and will have many more Dominican aspects.
Will this new book also be written in verse or in some particular way different from the traditional one?
The new book is written in a traditional way with recipes.
 With your success with "The Poet X" you have been compared to Creole writers like Julia Álvarez, – was this writer one of your inspirations to write? 
Yes. I love Julia Álvarez and she is a personal heroine. Her books have helped me to feel that I have been seen and acknowledged. As if I could imagine my own stories in the spotlight even though there were so few books focusing on girls like me. My favorite book of hers is "In the Name of Salome."
Less than a year after being published "The Poet X" has achieved national and international merits, has been on the list of best sellers of The New York Times: do you feel any pressure for the success of the next novel to be released in May? 
I do not know if pressure is the right word, but I feel there are a number of readers who have expectations of what I will discuss in my next novel. I have tried not to focus on that. I want to tell different stories, with different themes and characters, and I will not be afraid of how they will be received. Fear does not live in me.
What are your next projects? 
"With the Fire on High" (scheduled for May 2019) and "Clap When You Land" (May 2020).