Singer Jimmy Buffett, who inspired the Caribbean lifestyle through his "Margaritaville," dies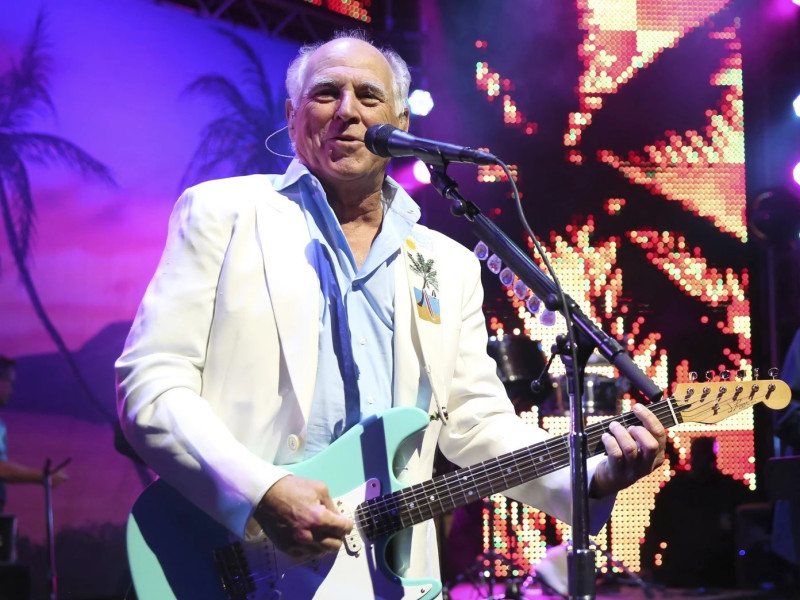 Jimmy Buffett performing at the premiere of "Jurassic World" in Los Angeles, June 9, 2015. The singer died on Friday, September 1, 2023.MATT SAYLES/AP
Tropical Rock legend, singer-songwriter Jimmy Buffett, who popularized beach soft rock with the song "Margaritaville," a carefree Caribbean lifestyle, and turned that celebration of laziness into a multibillion-dollar empire of restaurants, resorts and icy concoctions, died Friday. He was 76.
"Jimmy passed away peacefully on the night of September 1, surrounded by his family, friends, music and dogs," read a statement posted on Buffett's official website and social media late Friday.
"He lived his life as a song until his last breath and many will miss him," he added.
The statement did not indicate where Buffett died or the cause of his death.
The illness had forced him to reschedule concerts in May, and Buffett acknowledged in social media posts that he had been hospitalized but gave no concrete details.
"Margaritaville," released on February 14, 1977, quickly took on a life of its own, becoming a state of mind for those who "have a good time," an excuse for a life of discreet fun and evasion for those who "grow older, but do not grow up."
The song is the leisurely portrait of a slacker on the balcony of his house, watching tourists sunbathe as a pot of prawns begins to boil.
The song's protagonist has a new tattoo, a probable hangover, and regrets a lost love.
"What seems like a simple little song about hangovers and repairing a broken heart turns out to be a deep meditation on the often painful inertia of living on the beach," Spin magazine wrote in 2021.
"Tourists come and go, one group indistinguishable from the other. The waves rise and break, whether there is someone there to witness it or not. Everything that means something has already happened and you're not even sure when," Spin says.
The song, from the album "Changes in Latitudes, Changes in Attitudes," spent 22 weeks on the Billboard Hot 100 chart and peaked at number 8.
The song was inducted into the Grammy Hall of Fame in 2016 for its cultural and historical significance.
It became a karaoke standard and helped mark Key West, Florida, as a distinctive sound of music and a destination known around the world.
"Margaritaville didn't exist," Buffett told the Arizona Republic in 2021.
"It was a made-up place in my mind, basically made up about my experiences in Key West and having to leave Key West and go on a trip to work and then come back and spend time by the beach," he explained.
The song soon inspired restaurants and resorts, turning Buffett's supposed desire for the simplicity of island life into a multibillion-dollar brand.
He was ranked 18th on Forbes' list of the wealthiest celebrities of all time, with a net worth of $1 billion.
"Margaritaville was a place invented in my mind, basically made up about my experiences in Key West."
Music critics were never very kind to Buffett or his catalog, including beach bar songs like "Fins," "Come Monday," and "Cheeseburgers in Paradise."
However, his legions of fans, called "Parrotheads," regularly came to his concerts with toy parrots, cheeseburgers, sharks and flamingos on their heads, leis around their necks, and garish Hawaiian shirts.
"It's pure escapism," he told The Republic. "I'm not the first to do it and probably won't be the last. But I think it's part of the human condition to have fun. You have to get away from whatever you do for a living or from other parts of life that stress you out. I try to make at least 50% of my work fun, and so far it's worked."
His blend of Gulf Coast country, pop, folk, and rock added instruments and tonalities more common in the Caribbean, such as steel drums. It was a stew of steelpans, trombones, and pedal steel guitars.
Buffett's incredible ear for hooks and light rhythms was often overshadowed by his lyrics about fish tacos and sunsets.
In a review of Buffett's 2020 album "Life on the Flip Side," Rolling Stone reluctantly gave him support.
"Keep tracing his gritty, surfer corner of pop music utopia with the coolness and friendly warmth of a billionaire you wouldn't mind sharing a tropical-themed IPA with at 3pm, especially if his gold card was on the bar when the final round rolled around." published Rolling Stone.
Tributes Saturday came from all walks of life, from Hollywood star Miles Teller posting photos of himself with Buffett to former U.S. Sen. Doug Jones of Alabama, who wrote on X, formerly Twitter, that Buffett "lived life to the fullest and the world will miss him." Brian Wilson of the Beach Boys wrote, "Love and mercy, Jimmy Buffett."
THE BUFFETT BRAND
The evolution of Buffett's brand began in 1985 with the opening of a series of Margaritaville-themed stores and restaurants in Key West, followed in 1987 with the first Margaritaville Café nearby.
Over the next two decades, several more opened in Florida, New Orleans, and California.
Since then, the brand has expanded into dozens of categories, including resorts, men's and women's apparel and footwear, a radio station, a brand of beer, iced tea, tequila and rum, home décor, food items such as salad dressings, Margaritaville Crunchy Pimento Cheese & Shrimp Bites and Margaritaville Cantina Style Medium Chunky Salsa, the Margaritaville at Sea cruise line and restaurants such as Margaritaville Restaurant, JWB Prime Steak and Seafood, 5 o'Clock Somewhere Bar & Grill and LandShark Bar & Grill.
Also premiering on Broadway was the musical "Escape to Margaritaville," a romantic comedy in which Sully, a singer and waiter, falls in love with Rachel, a much more professional, who is on vacation with his friends and spends time at Margaritaville, the hotel bar where Sully works.
James William Buffett was born on Christmas Day 1946 in Pascagoula, Mississippi, and grew up in the port city of Mobile, Alabama. He graduated from the University of Southern Mississippi in Hattiesburg, Mississippi, and went from playing the streets of New Orleans to playing six nights a week in Bourbon Street clubs.
He released his first album, "Down To Earth," in 1970 and released seven more each year. In 1974, his song "Come Monday," from his fourth studio album, "Living and Dying in 3/4 Time", reached number 30. Then came "Margaritaville," from their first studio album. Then came "Margaritaville."
He participated in over 50 studio and live albums, often accompanied by his Coral Reefer Band, and was constantly on tour. He earned two Grammy Award nominations, two Academy of Country Music Awards, and one Country Music Association Award.
Buffett was in Austin, Texas, when the inspiration for "Margaritaville" came. He and a friend had had lunch at a Mexican restaurant before she dropped him off at the airport for a flight to Key West, so they started drinking margaritas.
"And it occurred to me that this was like Margarita-ville," Buffett tells The Republic. "She laughed and put me on the plane. And I started working on it."
He wrote some on the plane and finished it while driving down the Keys. "There was an accident on the bridge," he said. "And we stood for like an hour, so I finished the song on the Seven Mile Bridge, which seemed appropriate."
Buffett also authored numerous books, including "Where's Joe Merchant?" and "A Pirate Looks at the Fifties," and added the film to his resume as co-producer and co-star of an adaptation of Carl Hiaasen's novel "Hoot."