Over 1,600 girls gave birth last year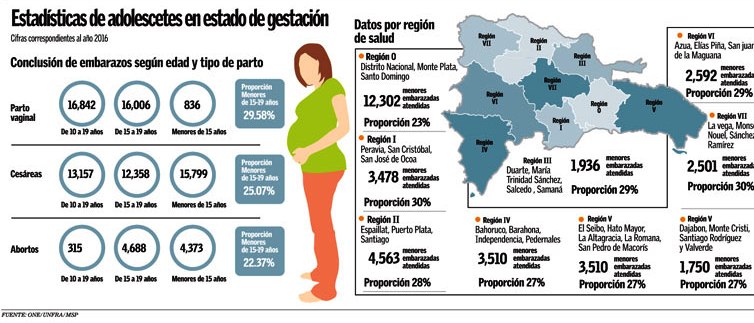 Santo Domingo.- Some 1,635 girls aged 10 to 15 gave birth in 2016, when they became one of the 29,999 adolescents who entered motherhood that same year.
Most of the nearly 30,000 births by girls between 10 and 19 years of age took place in Greater Santo Domingo and Monte Plata, with a total of 10,691.
The hospitals in those areas, established as Health Region Zero, attended more than 12,000 pregnant minors, but the number exceeded 34,000 cases nationwide.
The figure come from the "Map of Pregnancies in Adolescents" conducted by the Vice Presidency, Public Health, the National Statistics Office and the UN Population Fund.
Moreover, the map identifies the regions that surpass the national average of 26%, with 29% for the southern provinces of Azua, Elias Pia, Peravia, San Juan and San Jos de Ocoa.