Dominican Republic's extreme poverty dips below 6%: official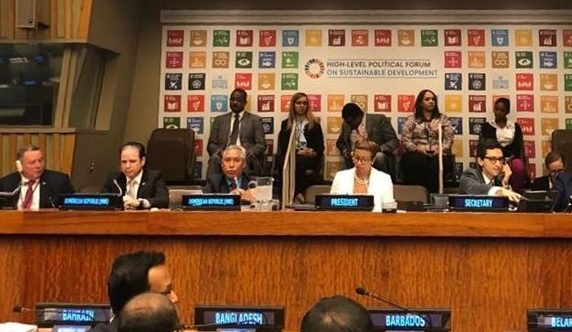 Isidoro Santana, UN
New York.- Economy minister, Isidoro Santana, on Tuesday presented Dominican Republic's National Voluntary Report on Sustainable Development Goals, citing advances in poverty reduction, access to drinking water, garbage collection and growth of the forest area.
Santana said the percentage of households with access to potable water rose from 83.2% in 2012 to 87% in 2016 for the urban population and from 51.7% to 61.8% in the same period for the rural population.
Households with solid waste collection services by the State climbed from 82.8% in 2012 to 86.1% in 2016, the official said.
Santana said in 2000 the proportion of the forest area was 30.8% with respect to the total surface and 41%, in 2015, an increase of 11 points, though still below the level of Latin America and the Caribbean."Monetary poverty levels are around 25.5% in the present (40% in 2003), multidimensional poverty is 21% and extreme poverty is below 6%."
Dominican Republic's report "is clear evidence of that commitment and support from the highest level of its political bodies and the efforts that, as a society, we are developing to meet the challenges of integral development without leaving anyone behind."
Santana heads the Dominican mission at the High Level Political Forum on Sustainable Development sponsored by the UN in New York from July 16 to 18.