DR reduces hunger in last two years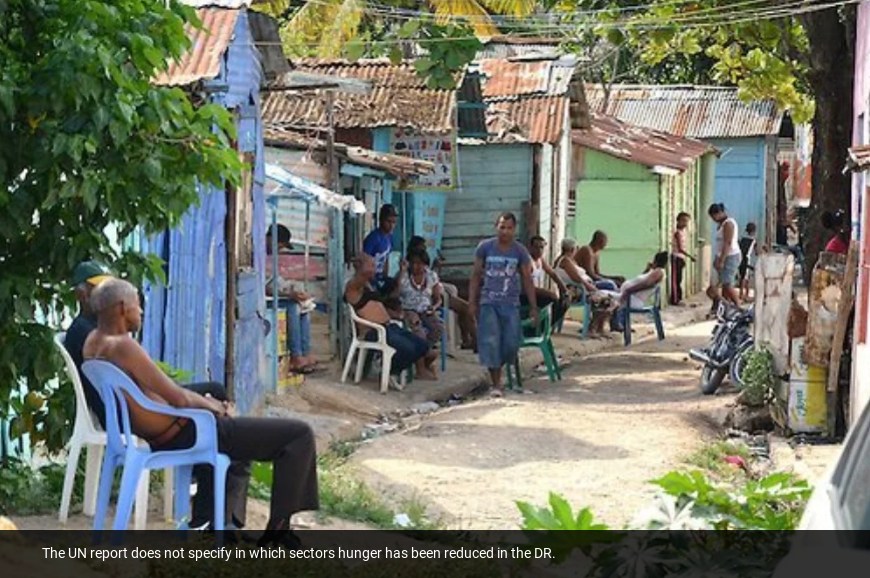 Hunger declined in the Dominican Republic as the undernourished population decreased from 10.4% in 2017 to 9.5% in 2018, according to a joint United Nations report. 
According to the report presented today by FAO, IFAD, WHO, WFP and UNICEF, for the period 2016-2018, the country registered one million Dominicans in a situation of hunger, while in 2017 the figure was 1.3 million.
Carmelo Gallardo, representative of FAO in the Dominican Republic, said that "these figures show a continuous decline in the undernourishment rates in the Dominican Republic over the last 14 years, since for 2004 the levels were at 24.4% and now the country registers 9.5%, which indicates that we can achieve the Zero Hunger objective if we continue to work in a sustained manner." 
Overweight, obesity
Other forms of malnutrition as in the other countries of the region, obesity and overweight continue to increase in the Dominican Republic, where 1.9 million people over 18 are obese (26.9%), while 100 thousand Dominican children under 5 years of age suffer from being overweight (7.6%). The report indicates that the delay in the growth rates of Dominican children under 5 years of age is 7.1% while wasting or low weight for height in this age group is 2.4%. 
Whereas in the Latin American region, four million children under 5 are overweight (7.5% of the total), 700 000 suffer from acute malnutrition (1.3%) and 4.8 million suffer from stunting or malnutrition chronic (9%).
Hunger affects 42.5 million people in Latin America and the Caribbean, where undernourishment rates have increased in recent years.
In Latin America hunger grows
The UN report says that hunger is growing in Latin America and the Caribbean, and in 2018 it affected 42.5 million people, 6.5% of the regional population. 
According to this publication, in the last five years (2014-2018), undernourishment has increased worldwide.