Costa Rican Chaplet wins LatAm golf tourney at Casa de Campo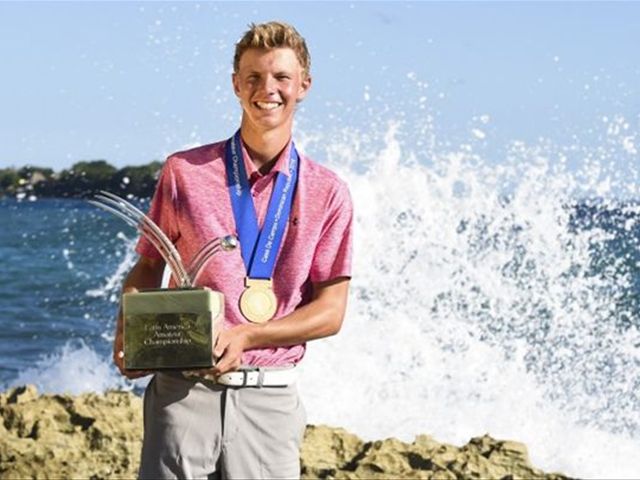 La Romana, DominicanRepublic – On Saturday, when Paul Chaplet, 16, of Costa Rica, briefly took thethird-round lead in the Latin America Amateur Championship with an eagle on the14th hole, he did not look at the leader board, and promptly triple-bogeyed theensuing hole. On Sunday, as he came down the final stretch of seaside holes atCasa de Campo's Teeth of the Dog Course, he knew exactly where he stood.
"I realized that Icould win this tournament when I looked at the 14th-hole leader board," saidChaplet, who will enter his senior year at St. Mary High School in San Josenext month. "I was 3 under, and I knew that if I could just get that birdie on14, and have a little cushion on the last four holes, I might have a chance – andthat's exactly what I did."
Chaplet executed adelicate chip shot that led to a tap-in birdie on the 485-yard, par-5 14th totake a one-stroke lead, then outdueled a tightly bunched group of players downthe stretch to capture a one-stroke victory with a winning total of 3-under-par285.
Jorge Garcia, ofVenezuela, who was tied with Chaplet as he played the par-4 17th hole, hit hisapproach shot into a fronting bunker and made bogey. Garcia played a brilliantapproach shot to the final green, but missed a 10-foot birdie putt that wouldhave forced a playoff and finished at 2-under 286.
With the victory,Chaplet earns an invitation to the 2016 Masters Tournament in April, as well asexemptions into The Amateur Championship (conducted by The R&A) and theU.S. Amateur Championship (conducted by the United States Golf Association). Healso earns spots in final qualifying for The 145th Open Championship and the2016 U.S. Open.
By the time he returnedon Sunday to the daunting closing stretch of four holes that he had played in 4over par in Round 3, Chaplet had long shrugged off his Saturday struggles.
"I finished that roundwith a smile because, however you finish, you're still under par," saidChaplet, who stood at 1 under, in a tie for fifth place entering the finalround. "Compared to last year, when I had an 81 in that third round, you can'tdo better than 71. And I knew that itwas a good position. I didn't have the lead, so I didn't have that pressure."
Gaston Bertinotti, 20,of Argentina, a junior at Campbell University in North Carolina, held aone-stroke advantage through 54 holes, but nearly overslept on Sunday morningand had to hustle to make his starting time. He played his outward nine in4-over 40 on the way to a round of 77, and finished in a four-way tie for sixthplace.
Alejandro Tosti, 19, ateammate of Garcia's at the University of Florida and the runner-up in lastyear's inaugural LAAC, started the day in solo third place, but played hisfirst 11 holes in 4 over. He finished strongly for a third-place tie at 1-under287 with Joaquin Niemann, of Chile, and Luis Fernando Barco, of Peru, who wasone of three players to tie for the day's low round of 69.
After two pars to starthis day, Chaplet made a tap-in birdie on the 534-yard, par-5 third hole. Headded back-to-back birdies on Nos. 7 and 8, but made his first bogey of the dayon the difficult par-3 13th hole, which had as many bogeys (21) as pars for theday.
On No. 14, the easiesthole of the day with a 4.54 stroke average, Chaplet was determined to get thestroke back. His second shot on the par 5 went over the green and left him witha slightly downhill chip to a green that sloped away. He executed it withperfect touch, and later called it the crucial shot of the day.
"It was not an easychip shot, and I knew I needed to make something good there," said Chaplet."That shot gave me momentum to keep going, and really gave me a positiveattitude on the holes that came after."
Chaplet changed caddieson Sunday, with Andres Russi, a friend since they were 5 years old, taking overthe bag.
"He asked me if hecould be my caddie, and I obviously answered yes," said Chaplet, who won hisage division in the US Kids Teen Worlds last July. "We communicate well, heknows my game and he knows how I think, which is the most important part."
The closing four holesof Casa de Campo played an average of two strokes over par for the 50-playerfield on Sunday, so Chaplet's bogey after missing the green to the left on thepar-3 16th was not unexpected. He made a pair of solid pars on Nos. 17 and 18,then waited out Garcia's final birdie bid.
"I feel like with theway I hit the ball, I had more than enough chances to win this championship,"said Garcia. "It's something that gives me a lot of confidence, and I'll justwork harder next year."
The third LAAC will becontested Jan. 12-15, 2017, at Club de Golf de Panama in Panama City.
Ron Driscoll is themanager of editorial services for the USGA. Email him at [email protected]