British Chamber to host 20th Royal Golf Cup on April 7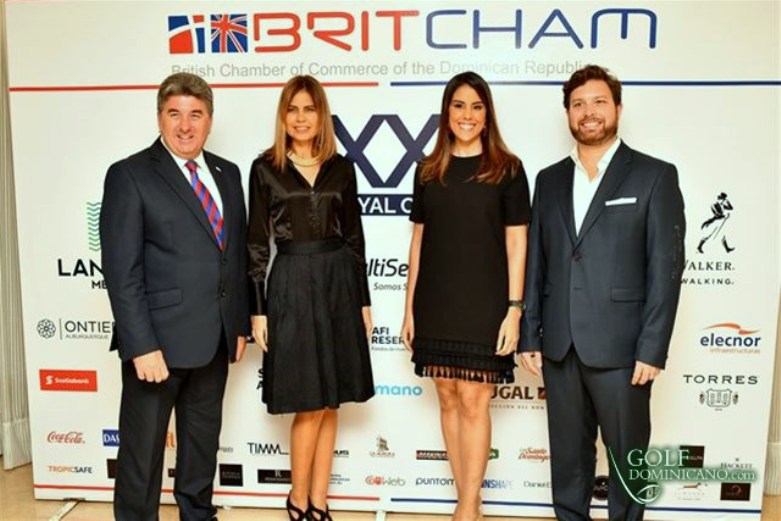 Chris Campbell, Yaniris de Peña, Franscesca Ortiz, José Rodríguez
Santo Domingo.- The British Chamber of Commerce will host the 20th edition of the Royal Cup on April 7, which will have United Kingdom of Great Britain ambassador in the country, Chris Campbell, as guest of honor .
The classic, which has a large rotating cup in which all the winners of the tournament will be entered, will take place at the exclusive links Teeth of the Dog, in Casa de Campo's, one of the main sponsors of the event.
In his welcoming remarks ambassador Campbell said it's an honor to be part of the realization of the Royal Cup, which is moving at a good pace. He also wished the players the greatest success and made a call to support that activity.
The details of this activity were offered by the BRITCHAM president, José Rodríguez, and executive director, Franscesca Ortiz, who explained that the competition will begin at 8am under the modality of scramble in pairs in categories A, B and C of men and a unique division for the ladies.
For his part, Rodríguez praised that it is a tradition to hold this event and that he is grateful that the people and sponsors have identified with the cause.
Ortiz said that after the competition the award ceremony will take place, as well as multiple raffles and gifts courtesy of sponsor companies and BRITCHAM. In addition, a replica of the famous British Open Golf Cup, the Claret Jug, will be awarded to the best gross score of the tournament, as is already a tradition.
During the ceremony there was a minute of silence in memory of professor Williams Burgos, who died this weekend of cardiac arrest.
In each of the categories, the three lowest net entries will be awarded, as well as the best gross score of the tournament.
Additionally, special prizes will be awarded such as Longest Drive and Closest to the Pin.
BRITCHAM CUP sponsors:
Inicia, Lantica Media, Multiseguros, Diageo, AFI Reservas, Ontier Alburquerque, Elecnor, Altice Dominicana, Inversiones Popular, MINI, Banco del Progreso, Scotiabank, Air Europa, Cervecería Nacional Dominicana, Humano , Brugal, Pricewaterhouse Cooper, Bodega Torres, and Revista Gentlemen.
Also Lift Air Group, Daniel Espinosa, Bepensa Dominicana, Taurus Security Services, Café Santo Domingo,  Productos Chef, Victoria By Porterhouse, Punto MAC, Go Web, Electrodomésticos, Renaissance Jaragua, Revista Makinas, Hodelpa, Cigarros La Aurora, InShape Crossfit, Botegga Fratelli, Mitre, Casas del XVI, Hotel El Morro Montecristi, Tiendas HUOMO, among others.