Brice Garnett wins first PGA Tour in Dominican Republic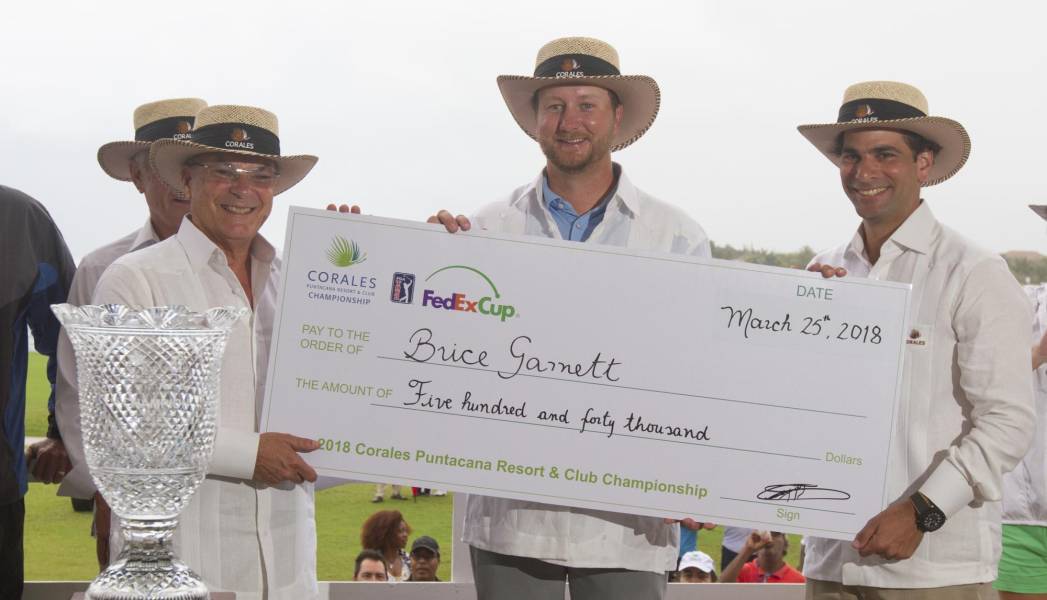 L-R: Frank Rainieri, Brice Garnett, Frank Elias Rainieri. Image -diariolibre.com
Santo Domingo.- Brice Garnett has won the first PGA Tour on Dominican soil. The US golfer closed with a 2-under 70 in windy and rainy conditions for a four-stroke victory over Keith Mitchell at the Corales Puntacana Resort & Club Championship Sunday, which awarded US$3 million in prizes.
It was a first victory for Garnett, 34, in a PGA Tour tournament, winning US$540,000 in prize money.
Second place went to Keith Mitchell (-14), third to Kelly Kraft (-13) and fourth Denny McCarthy (-12), all from the US.
Puntacana Resort & Club president and CEO Frank Rainieri said that around 80,000 people visited the resort during the tournament, including sponsors, guests and homeowners, relatives of the PGA players and local visitors.
"We are very proud to have partnered with the PGA to bring this first official Tour to the Dominican Republic. It is a historic occasion for the future of golf in the country," stated Rainieri.
Puntacana Resort & Club vice president Frank Elías Rainieri said that the partnership with the PGA Tour aimed to showcase the potential of the golf courses in Puntacana Resort & Club and to promote the region and the country as one of the world's leading golf destinations with world class courses and other facilities.
Golfers from Germany, Argentina, Australia, Canada, Colombia, South Korea, China, United States, Sweden, India, United Kingdom, Ireland, Mexico, Paraguay, South Africa, Puerto Rico and Zimbabwe played in the tournament.
The Dominican Republic's Julio Santos finished with a +4 score in 73rd place out of the 76 golfers who completed the course, of the 132 who started on Thursday. The other Dominicans who played in the tournament were Hiram Silfa (+3), George Riley (+6), Willy Pumarol Jr. (+7) and Rhadamés Peña (+9).
Former Dallas Cowboys quarterback Tony Romo dropped out Friday, finishing last in the 132-man field in his PGA Tour debut. He shot 77-82 playing as an amateur on a sponsor exemption.