Karate Combat hosts first ever sports event atop NYC's Freedom Tower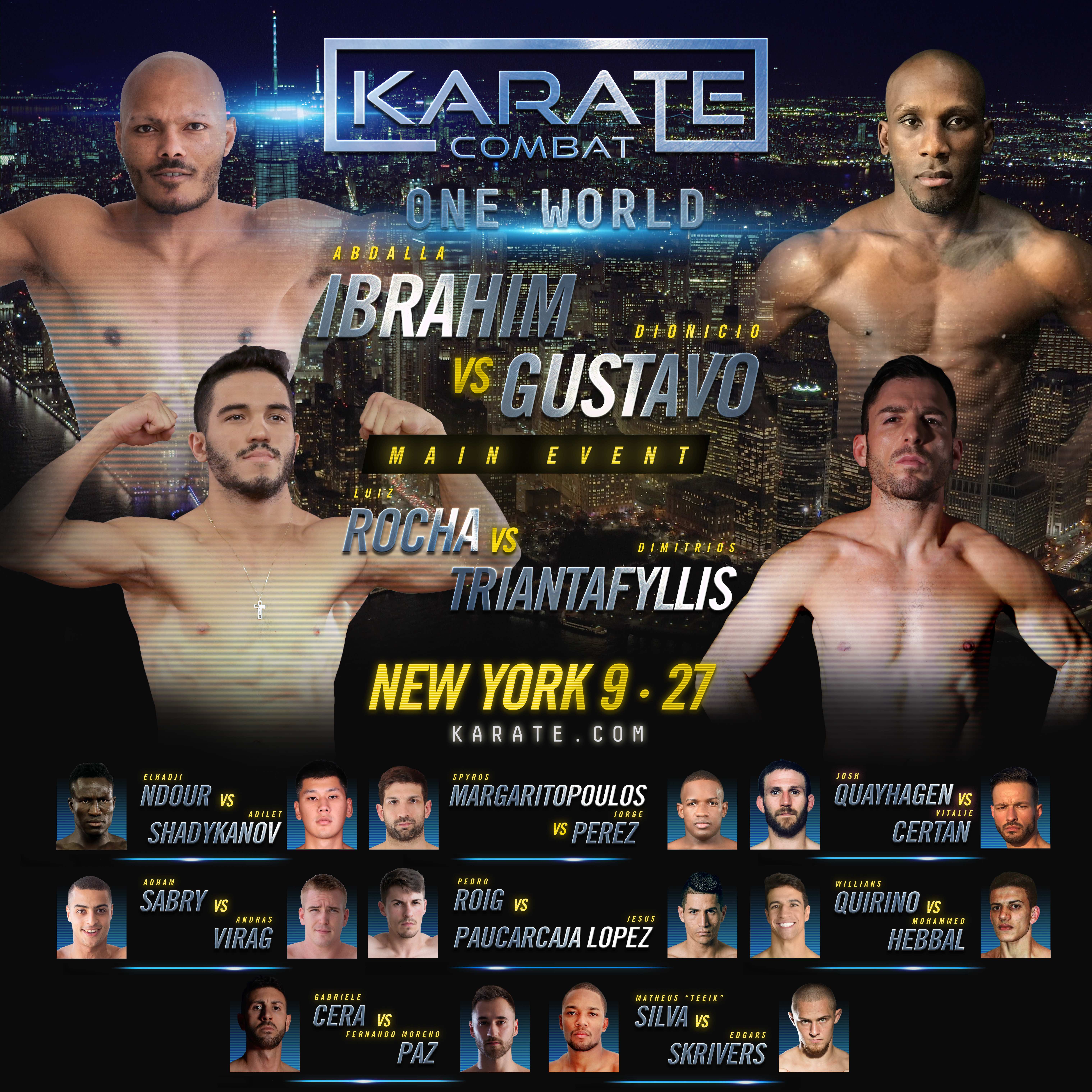 Press Release
New York.- Karate Combat, the first mainstream, professional, full-contact karate league, announced the date and location for its next event, Karate Combat: One World.
The fight card, featuring Olympic-bound karateka from 12 countries, will live stream from the observation deck of One World Trade Center, also known as the Freedom Tower, in New York City on the evening of Sept 27th, 2018.
It's the first ever sporting event held at the top of the building, and sets a world record for the highest sports event from ground level. Watch the teaser trailer here.
"This fight is a celebration of everything karate stands for, at the top of one of the most meaningful buildings in the world," said Michael DePietro, CEO of Karate Combat. "Strength. Respect. Unity. It's the perfect way to introduce Karate Combat to New York City."
Karate will make its Olympic debut at Tokyo in 2020 and excitement about the sport is rising. Nearly 20 million people in the U.S. practice karate and have had no professional league to support, watch, or aspire to join until now. Karate Combat's rules and patent-pending fighting pit ensure non-stop action, and top karateka from all over the world are signing up.
Karate Combat: One World will be called by Bas Rutten and Sean Wheelock, with pit-side reporting by Phoenix Carnevale. The top of the card features New York City's Abdalla Ibrahim vs. Pan-American champion Dionicio Gustavo of the Dominican Republic.
The co-main event will have Greece's Dimitris Triantafyllis vs. Luis Rocha of Brazil. Other fighters competing include Josh Quayhagen, of Louisiana, Elhadji "Black Magic" N'Dour of Brooklyn, Adham Sabry, a New Yorker originally from Egypt, and stars from Italy, Spain, Morocco, Hungary, Peru and Kyrgyzstan.
Karate Combat: One World will stream live at Karate Combat's site karate.com, on its Android and iOS apps and new Roku channel, along with partners UFC Fight Pass, CBS  Sports Live, DailyMotion, Dr. Oz's CombatGO, FITE, YouTube, Pluto TV, Eleven Sports, Klowd TV, The Fight Network, and more. Three million people viewed Karate Combat's Miami and Athens events.
For more information about Karate Combat or to request press access to Karate Combat: One World on Sept. 27th: Owen Phillips, [email protected] 310-383-4991.