Mexican Alvaro Ortiz wins Latin American Amateur Championship in Casa de Campo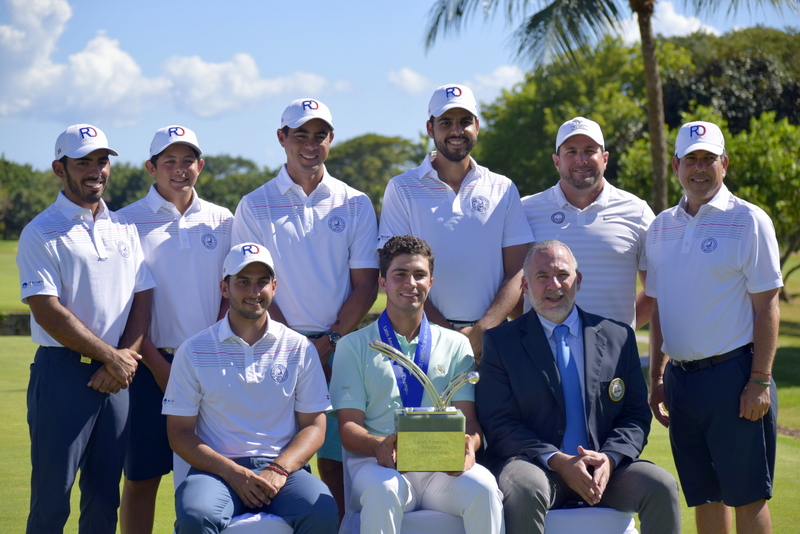 LA ROMANA.- The Mexican Alvaro Ortiz made a point to point and rose as the fifth champion of the Latin America Championship, which was played in the award-winning Teeth of the Dog Golf Course in Casa de Campo, with a participation of 108 young players from 29 countries
The Mexican winner finished with 14 under par in four rounds (66 + 72 + 70 + 66). The only day he lost this lead position was on Friday, the day in which the Dominican Juan Cayro Delgado briefly held the lead.
Luís Gagne, from Costa Rica and Luís Fernando Barco, from Peru, came second and third, respectively.
Among the Dominicans, Juan Jose Guerra finished -3 under par in four rounds of play, to be among the 12 best, while Juan Cayro Delgado was ranked 15, ending with a score of -2 under, while Enrique Valverde finished the four rounds with 6 over par.
Elmúdesi highlights international fair
Carlos Elmúdesi, recently appointed president of the Dominican Golf Federation (Fedogolf), highlighted the great reception of the national and international public, as well as the quality of the event, organized by the Masters Tournament, R & A and the USGA
He also considered that "the event was impressive, first by the deployment of the best players in Latin America, in addition to national and international coverage and the organization of the event." He valued the effort and dedication of the Dominican players, who came to the end with good scores.
He thanked the facilities of Casa de Campo, who welcomed the Dominican players before the event, so they could practice and prepare themselves well for the event.
The sixth edition of the LAAC will be in Mayakoba, Mexico in 2020.
It is worth mentioning that the 2019 LAAC champion Ortiz received an invitation to participate in the Masters Tournament at the Augusta National Golf Club. In addition, he obtains complete exemptions to dispute The Amateur Championship, the U.S. Amateur Championship and all other amateur championships of the USGA for which he is eligible. Finally, he will enter directly to the final qualifying stage to enter the 148th Open, which will be played at Royal Portrush, and at 119th U.S. Open Championship, to be held at Pebble Beach.