Exporters host golf tournament in Casa de Campo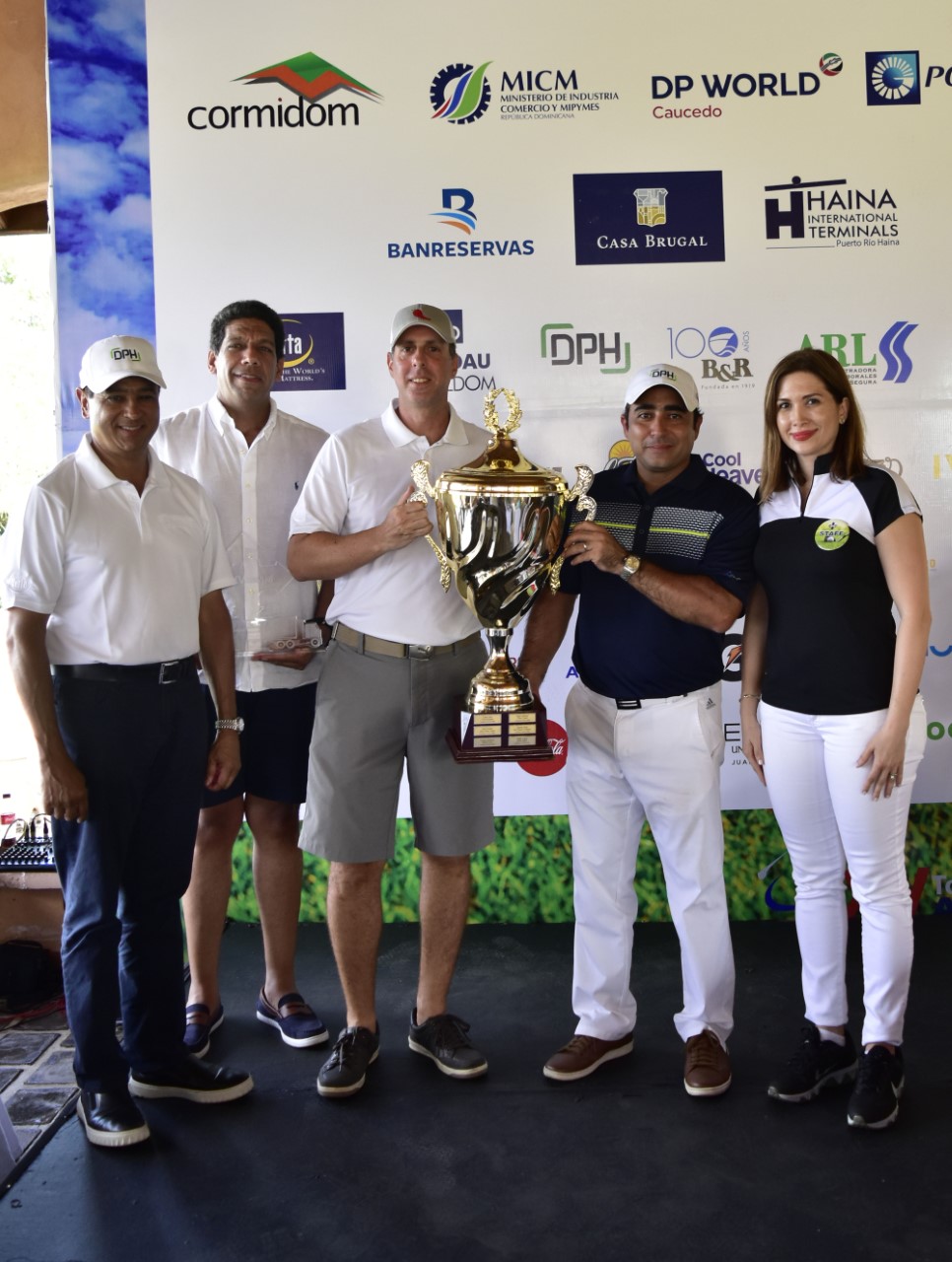 Oded Effes, Federico Bogaert receive the prize from Adoexpo executives, Odile Miniño Bogaert, Karel Castillo, José Mella
Press Release
La Romana.- With a mild climate, the breathtaking views of the mountains and the Chavón river and the exuberant facilities of the Dye Fore, in Casa de Campo, 112 players competed this weekend with enthusiasm in the XV Adoexpo Golf Tournament 2019, organized by the Dominican Exporters Association.
The annual event of the exporters began with the tee-off by Paul Marinko, president of the Corporación Minera Dominicana; the welcoming words of Odile Miniño Bogaert, executive vice president of Adoexpo, and was attended by Ricardo Koenig, past president, and Karel Castillo, deputy secretary.
Likewise, the activity was headed by Juana Barceló and Elizabeth Mena, directors of the Adoexpo council; José Mella and Euclides Reyes, advisers, among other personalities of the business sector.
Miniño stressed that more than 100 enthusiastic golfers who will bet on the best positions, which as years compete in categories A, B and C, under the Scramble mode in pairs.
The business leader said that, in addition to the first three places, special prizes will be awarded for the longest drive and the closest stroke to the pin.
She also said that as is a custom in this competition, after the contest took place the ceremony of trophies, multiple raffles and gifts at the end of the event, courtesy of sponsors and Adoexpo.
Winners:
Oded Heffes and Federico Bogaert's 65 strokes, took the XV ADOEXPO 2019 Golf Cup, and the Grand Cup.
The most outstanding in the category "A" were the pairs Leo Jorge Pérez and Johnny Morales, with 65 strokes, in first place; Jaime Valenzuela and Rafael Canario, with 66 strokes second, and Edgar Alma Jiménez and Ramón Alma, with 66 strokes, third.