Dominicans celebrate Major League Baseball bigtime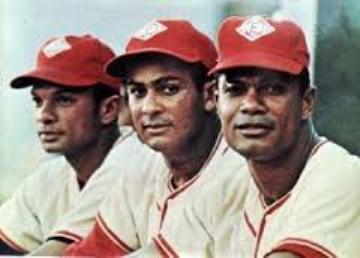 Alou, Matty, Jesus, Felipe Alou
Press Release
Santo Domingo, GLOBE NEWSWIRE — In celebration of its contribution to Major League Baseball, Dominican Republic Ministry of Tourism will host a series of events at ballparks across the country. Kicking off Wednesday, June 5 will be the first Dominican Day at the Park at the PNC Park in Pittsburgh. These games will pay tribute to past as well as current Dominican players who have helped shape this heritage sport as we know it today.
"Baseball is more than just a pastime, it's a major source of identity and pride to Dominican culture," said Magaly Toribio, Marketing Advisor for the Dominican Republic Ministry of Tourism. "We appreciate this opportunity to recognize our country's most influential players and demonstrate the passion contributed to each and every game."
Game integrations will include a video honoring iconic players and on-field presentations to Dominican home team players in addition to giveaways at select stadiums. Leading up to the game, attendees will have the chance to enjoy authentic Dominican music, with live bands performing bachata and Dominican merengue before the game and as well as a Dominican-themed photobooth.
Specific dates and locations are as follows:
June 5: Pittsburg Pirates (Pirates vs. Braves)
August 12: Chicago White Sox (White Sox vs. Astros)
August 13: Cleveland Indians (Indians vs. Red Sox)
August 15: New York Yankees (Yankees vs. Indians)
August 17: Boston Red Sox (Red Sox vs. Orioles)
August 22: Atlanta Braves (Braves vs. Marlins)
August 26: San Diego Padres (Padres vs. Dodgers)
September 3: Washington Nationals (Nationals vs. Mets)
September 9: Houston Astros (Astros vs. Angels)
September 12: Texas Rangers (Rangers vs. Oakland Athletics)
September 27: Philadelphia Phillies (Phillies vs. Marlins)
HISTORY OF BASEBALL IN DOMINICAN REPUBLIC
For over 100 years, baseball has been at the center of Dominican Republic culture. While the exact origin of how it came to the country is still unknown, historians suggest that baseball first arrived at the island around 1880. Since then, the sport began to truly progress in 1916 when the first American Marines and Dominicans began to show pride in being great, competitive players.
By 1955, the creation of Professional Baseball League of Dominican Republic was formed as well as its incorporation with United States Major League Baseball.
Today, there are more Dominican players in the minor and major American leagues than there are of all other players of Caribbean nationality combined. All major league teams have training camps in the Dominican Republic to scout and train players for professional potential. Each year as the Major League Baseball began releasing its annual data since 1995, Dominican Republic continues to lead the Major Leagues with the most representatives from any one country.
In fact, more than 100 Dominican players earned spots on the 2019 opening day roster which makes up over 40 percent of all players that are from outside the United States. Overall Dominican Republic players now represent 11.6 percent of all Major League Baseball starters – which is particularly impressive for a country with a population no larger than that of Ohio.
Standout Major League Baseball players from Dominican Republic over the years have included Baseball Hall of Famer San Francisco Giants' Juan Marichal and of the trio of Pedro Martinez, Manny Ramirez and David "Papi" Ortiz that propelled the Boston Red Sox to win the legendary World Series in 2004.
Whether you're a lifelong baseball fan or curious to check out a game, Dominican Republic has it all. For information on baseball and other attractions within the country, visit www.GoDominicanRepublic.com.