Another Latino MVP? Dominican Juan Soto and Asdrúbal Cabrera in competition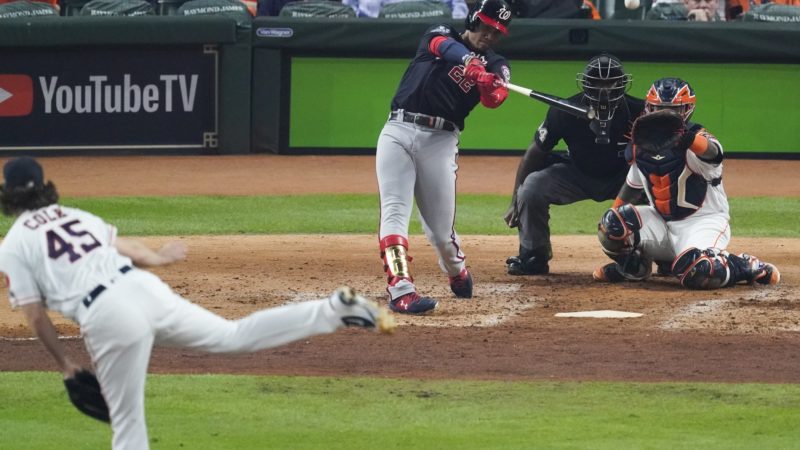 Washington Nationals' Juan Soto hits a home run during the fourth inning of Game 1 of the baseball World Series against the Houston Astros Tuesday, Oct. 22, 2019, in Houston. (AP Photo / Eric Gay)
The explosion of the Dominican Juan Soto in the first meeting and the three driven by the Venezuelan Asdrúbal Cabrera in the second commitment have laid the foundations for a new Latin American candidacy for the Most Valuable Player of the World Series.
It has happened 10 times in history. Will it happen on this occasion too? Since the Puerto Rican Roberto Clemente was established as the player with the most impact in the October Classic in 1971, the Hispanic footprint has been growing in numbers and exploits, until reaching the current heyday.
Four of the last nine trophies dedicated to the MVP have gone to Caribbean homes. Colombia, Cuba, Puerto Rico, Dominican Republic and Venezuela have celebrated at the end of the autumn event. And an award in this edition would strengthen that trend, as it would mean that half of the distinctions distributed in this decade would be left to the representatives of the region.
This is the list of Latinos who have taken the MVP award:
Roberto Clemente (Pirates), 1971
The Pirates defeated the Orioles in seven games, defending champions.
52 years passed since the debut of a Latin American in the Fall Classic until finally, Roberto Clemente gave the Hispanic players their first award as the Most Valuable Player of the event. The Puerto Rican was a big hitter star with batting averages of .414 / .452 / .759.
Pedro Guerrero (Dodgers), 1981
The Dodgers defeated the Yankees in six games, after losing the first two.
In a previously unpublished chapter, there was a shared prize. And not for two, but for three players. Ron Cey hit .350, with a home run and six RBIs; Steve Yeager flirted for .286, with 2 home runs; and Guerrero left .333 of average, with two homers and seven hits.
José Rijo (Reds), 1990
The Reds swept the Athletics. No one expected a similar result. But it happened, and it happened largely thanks to José Rijo.
Dominican law lived its best moment in the majors and showed it with two solid openings in the October Classic.
Other winners
Liván Hernández (Marlins), 1997
Mariano Rivera (Yankees), 1999
Manny Ramírez (Red Sox), 2004
Edgar Rentería (Gigantes), 2010
Pablo Sandoval (Gigantes), 2012
David Ortiz (Red Sox), 2013
Salvador Pérez (Reales), 2015
The question: Who will it be this year?