A baseball bridge to Sosúa: the Hugh Baver story chapter 3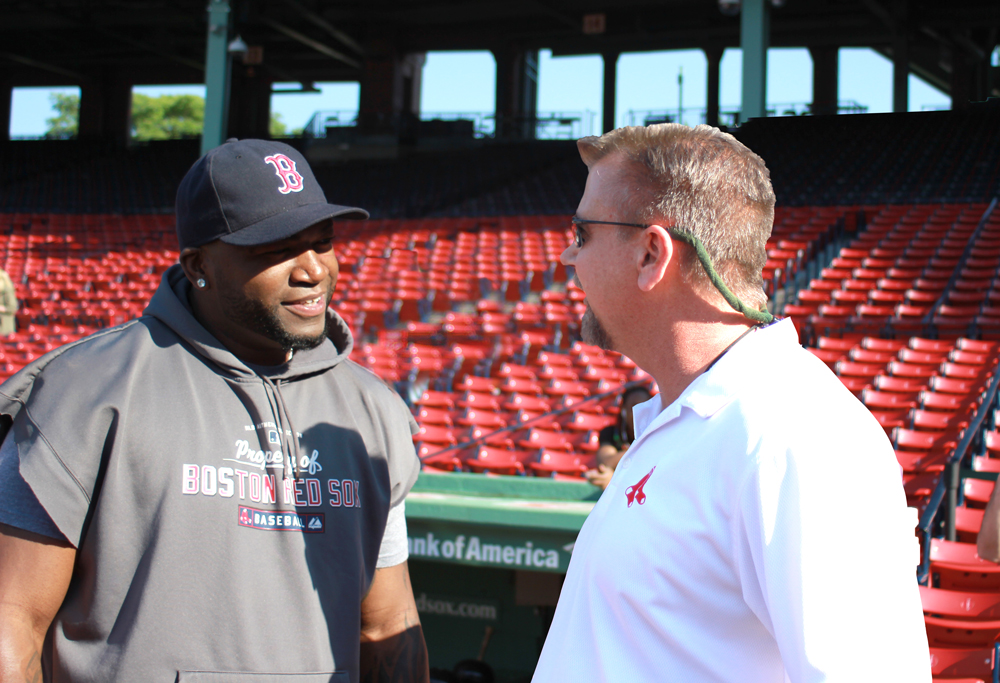 Meeting David Ortiz "Big Papi" at Fenway Park in 2013 when he signed the World Baseball Classic Game-used Championship First Base, a gift given to Jesus Alou, the Boston Red Sox, and the Dominican Republic
Renn Loren
As much as Hugh Baver will tell you he loves the game of baseball, it was never a comfortable journey for him. Beginning in Little League, Hugh vividly remembers "riding the pine" and sitting on the bench for most of his Little League career. 
Baver was always the last player to make the team from ages 7 – 10, growing up in Tonawanda, NY (a suburb of Buffalo). His coach did sparingly put him into the game so that he could at least make an appearance when the outcome of the game was not on the line. His teammates often taunted him with snide comments whispering behind his back on the bench: "He's putting in Baver, we're going to lose now." 
His teammates' concerns were warranted, however,  as he frequently struck out and had little confidence as a batter.
Amazingly, the memories he has of his youth playing baseball are still very vivid. He remembers the turning point in his young career at age 11 when, in a pivotal playoff game, he was placed in a critical game-ending situation. The score was tied in the last inning with 2 outs, and the bases were loaded. There were no other available players to "pinch hit" so his coach called his number and, trembling in his boots, he walked to the plate. With great apprehension and only hope in his heart, the 3rd Base coach walked up to him and whispered in his ear to "bunt." On the very first pitch, he reached out his bat and amazingly laid down a perfect bunt that dribbled down the 3rd Base-line.
No one on the opposing team expected a bunt as he sped out of the batter's box with adrenaline rushing him to easily reach 1st Base in a split second, and the winning run crossed the plate for his team. Finally, some redemption for all the hours of practice and feelings of inferiority. For the very first time, his team embraced him.
Exemplifying how much he loved sports in general and specifically baseball, in his boyhood room on the entire wall behind his bed, he created a collage of photos, clipped from Sports Illustrated magazine. The most predominantly featured images in this collage were those of his favorite team at the time, the Oakland Athletics. 
Before Baver developed his lifelong love for the Boston Red Sox, in the early 1970's the Oakland A's with their flair as the "Swingin A's," wearing unconventional bright sun yellow and kelly green colored uniforms, captured his heart and dreams. Between the ages of 12 and 14, the Oakland A's won 3 consecutive World Series championships featuring a star-studded future line up of Hall of Famers including household names like Reggie Jackson, Catfish Hunter and Rollie Fingers. Very coincidentally, one of the utility players on those championship teams was Jesus Alou, one of the Dominican Godfathers of baseball and a man he would meet personally some 35 years later here in the Dominican Republic. 
Continuing into his teen years, Baver's confidence grew, and he eventually improved to an "average" level player. This was based almost exclusively on the growing strength of his arm. Now residing in the Detroit area after his family moved from Buffalo, in high school, he was a starting pitcher, however, despite demonstrating flashes of brilliance, posted just average statistics.
Baver had aspirations of playing in college at BigTen Division 1 Michigan State. However, during his senior year, he was dissuaded by his high school coach, who told him, "don't even bother trying out for Michigan State as you will never make it." Additionally, his Jewish adoptive parents were not sports fans at all, but rather highly education-focused. His mother and father would often say "pipe dreams" and try at every turn to re-direct his interests to educational pursuits. Hugh remembers his mother frequently saying, "if only you could remember your mathematics homework like you do the players' batting averages and statistics." After all, there are very few Jewish baseball players other than the most well-known ones Sandy Koufax and Hank Greenberg. This, in stark contrast to the very high percentage of Dominican born baseball players, which numbers close to 1 in every 3-4.
It's easy to see why Baver relocating here now almost a year ago to Sosua was an easy thing for him to do. Outside of his interest in pursuing the real story and secrets behind the 1940 Sosua settlement here, he enjoys living in an environment where the passion and love for the sport are so strong. Here, the phrase "National Pastime" truly applies more than anywhere in the world. 
Not a well-known fact, but baseball traces its origins to the ancient Taino Indian sport of "Batu." Early Spanish Conquistadors who traveled to the islands of Cuba and throughout the Caribbean during the colonization periods chronicled evidence of this activity. The Batu game was played at the batei/Batey or ball field/court/ceremonial ground, and players used a ball made of resin and shaped leaves.
As recorded in Cuba, this ball was hit with an instrument similar to an oar or spade. According to Cuban linguists, there is a relation in the origins of the words bate (bat) and batear (hitter) with the corresponding terms "Batey" and "Batu" used by the indigenous Tainos. It's no wonder why so many professional baseball players hail from the Dominican Republic.
Back to Baver. Between his parents' lackluster non-supportive attitude for his ballplaying aspirations and his high school coach's negative remarks – life-defining moments ensued as Baver was committed to proving both his parents and high school coach wrong.
In the Fall of 1978, his freshman year, and not being a recruited player, he asked the Michigan State head coach for a tryout as a "walk-on." Not only was he one of the only players who made the team, that year he was fortunate enough to be a part of Michigan State's BigTen championship baseball team. This was the same year 1978/79 that Michigan State won the BigTen "Triple Crown," an amazing and unparalleled feat, winning the Big Ten Championship in Football and the NCAA National Basketball Championship with Earvin "Magic Johnson beating Larry Bird and Indiana State. For a college freshman, it didn't get much better than that. 
But his enthusiasm was short-lived as the following season, Baver was cut from the team in his Sophomore year, leaving him terribly depressed, seeing as he had miraculously made the team as a walk-on the previous year. But Baver was not deterred for long. He devoted himself to working out hard with weights and practiced as much as possible to prepare to try out for the team again in his Junior year.
His hard work paid off as he was again accepted back onto the team in his 3rd year as a Spartan. He played that year and the 2 following years being the only baseball player in Spartan baseball history to make the team as a walk-on, then be cut, and re-make the team again. Although scouted and a solid college player, he was not selected in the MLB draft.
Following his undergraduate studies, Baver was accepted back into the Michigan State Business Administration graduate program, where he yearned to try and take playing baseball professionally to the next level. Following his graduate work, this opportunity presented itself after moving to Los Angeles for the birth of his 1st child, daughter Rachel. There he was recruited to pitch on the Oakland A's Winter Scout league team based out of Orange County. It was there in the bright warm Southern California sunshine where Baver's baseball pitching competencies really began to gel.
That summer of 1985, his A's Scout league team was selected to be one of eight teams playing in the inaugural US Open Amateur Baseball Tournament. This was a predecessor tournament to the current World Baseball Classic, where, in 2013, the Dominican Republic captured the title beating neighboring Puerto Rico. All-star teams representing Australia, Korea, Taiwan, and Cuba came to the Anaheim Angels spring training complex in Palm Springs, CA, for an International tournament which was won by the team from Cuba. 
For his play in that tournament, at the ripe old age of 24, he was recognized by the Oakland A's parent affiliate and assigned to one of the A's Minor League affiliate teams in the "High A" level California League. Although attaining a life long dream to play professionally, his career was short-lived after being released in Spring Training in Arizona in February of 1986. 
Then on to his professional business career in IT with NEC, Compaq, Hewlett-Packard, & IBM, it would not be until 2010 that he would test his baseball skills again. In February of 2010, nearly 35 years later, after his short stint with the A's that he signed up for the Boston Red Sox Fantasy Camp in Fort Myers, FL. For his outstanding pitching performance, he was awarded the camp's coveted Cy Young Award.
But more importantly and fatefully, having already pre-planned a trip to visit the Dominican Republic after the fantasy camp concluded, Baver was given the mobile number of Jesus Alou. Alou was the Director of the Red Sox Academy (Academia Medias Rojas) in El Toro, just South of Santo Domingo. 
This set into motion another highly unlikely yet remarkable sequence of events, which has ultimately brought him to the DR today intending to direct the construction of a baseball stadium and training facility here on the north coast.
Growing up as a Little Leaguer had been such a "challenging" experience, struggling just to make the team. His subsequent ascension to college and professional ball came only after much dedication, discipline, and hard work. Never in his wildest dreams would Baver have imagined that baseball, with its strange twists and turns, would play so prominently into his future and lead him to a life on the north coast of the Dominican Republic.
Video link to Red Sox Fantasy Camp Cy Young Award presentation:https://www.youtube.com/watch?v=mrMGeevpEeA
Next week: the professional corporate years and the latest from Sosúa